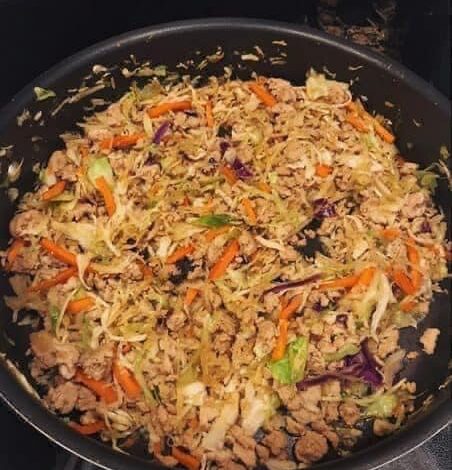 Ingredients :- for Weight Watchers Egg Roll in a bowl
1.5 lbs Lean ground turkey 99% fat-free
¼ c. water.
3 c. green cabbage, shredded
1 medium carrot, shredded
½ tsp garlic powder or fresh minced garlic
2 tbsp toasted sesame oil
½ tbsp. fresh ginger, finely minced
2 tbsp. green onions, chopped
1 tbsp. rice vinegar
Sea salt and black pepper, to taste
Optional:- 2 tbsp. coconut aminos or tamari, hoisin sauce, sesame seeds..
Instructions :-
Heat a large skillet over medium-high heat. Brown turkey until no longer pink, then drain if needed
Add water. Reduce heat to medium and add shredded cabbage, carrots, garlic powder, sesame oil, ginger, and green onions.
Season with salt and black pepper, to taste and cook, stirring frequently, until the cabbage and carrots are soft, approximately 4-5 minutes.
Add rice vinegar. Cook another 1-2 minutes or until heated through. Remove from heat and transfer to a serving platter or bowl. Sprinkle with sesame seeds, if using, and serve immediately. Enjoy!
Weight Watchers Points 2 on Green, 1 on Blue and Purple..