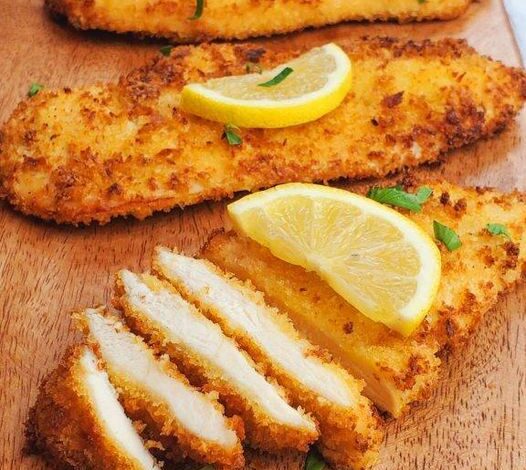 Ingredients:
4 boneless, skinless chicken breasts
1 cup all-purpose flour
2 large eggs
1 cup breadcrumbs (panko or regular)
1/2 cup grated Parmesan cheese
1 teaspoon salt
1/2 teaspoon black pepper
1/2 teaspoon paprika (optional)
Cooking spray or olive oil spray
Instructions:
Preheat your air fryer to 375°F (190°C).
In three separate shallow dishes, prepare a breading station. In one dish, add the flour. In the second dish, beat the eggs. In the third dish, combine the breadcrumbs, grated Parmesan cheese, salt, pepper, and paprika (if using).
Take a chicken breast and coat it in the flour, shaking off any excess. Dip it into the beaten eggs, allowing any excess to drip off, and then coat it in the breadcrumb mixture, pressing the breadcrumbs onto the chicken to adhere.
Place the breaded chicken cutlets in a single layer in the preheated air fryer basket. You may need to work in batches, depending on the size of your air fryer.
Lightly spray the breaded chicken cutlets with cooking spray or use an olive oil sprayer to give them a fine mist of oil. This will help them get crispy.
Cook the chicken cutlets in the air fryer for about 12-15 minutes, flipping them halfway through the cooking time. The exact time may vary depending on the thickness of your chicken breasts and the specific air fryer you're using. Ensure the chicken reaches an internal temperature of 165°F (74°C) and that it's golden brown and crispy on the outside.
Once the chicken cutlets are done, remove them from the air fryer, and let them rest for a couple of minutes before serving.
Serve the air fryer chicken cutlets with your favorite dipping sauce, a side salad, or in a sandwich or wrap.