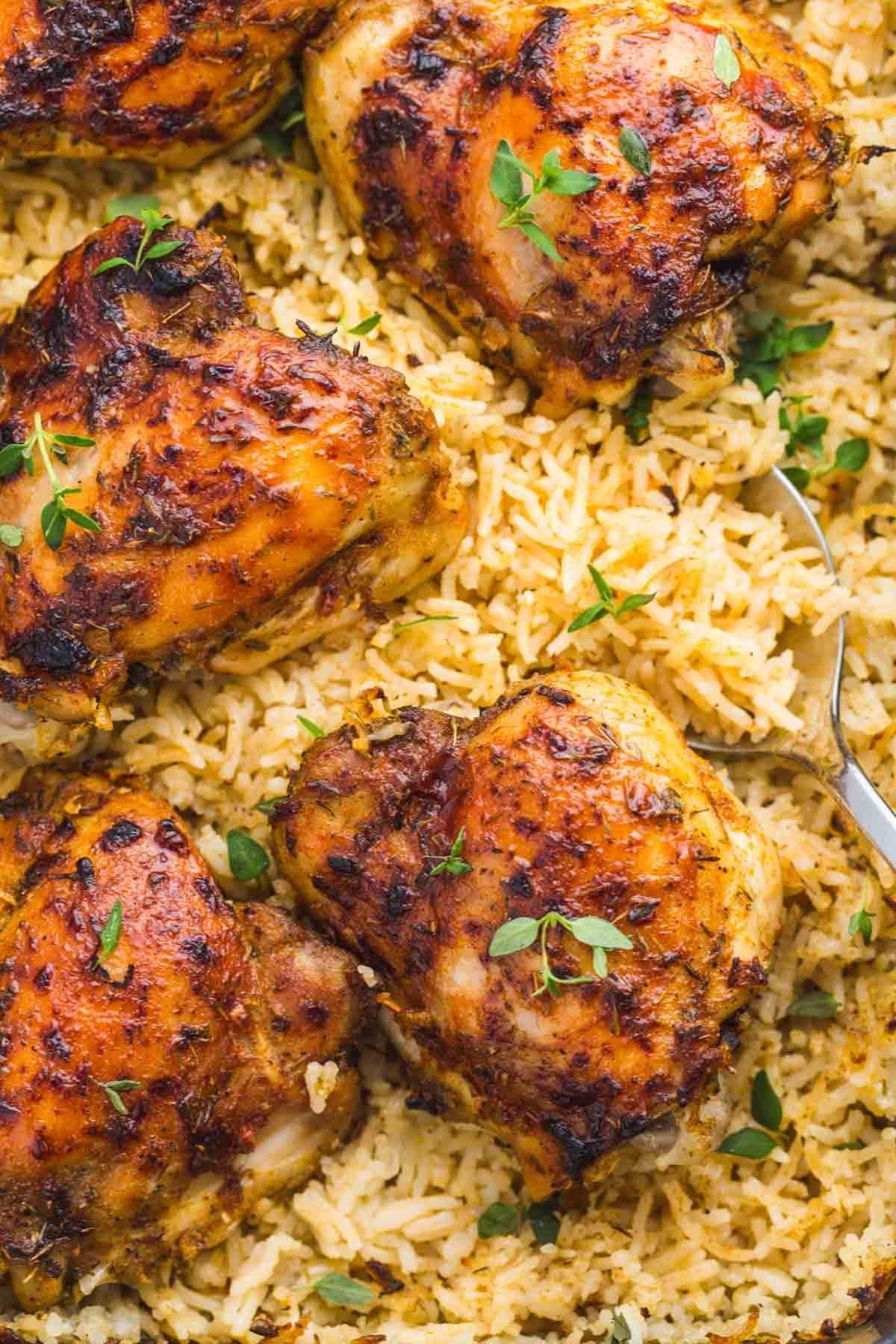 Ingredients:
·         5 (6 oz.) bone-in, skin-on chicken thighs
·         1 Tbsp olive oil
·         Salt and freshly ground black pepper
·         1 cup chopped chopped red onion or yellow onion
·         1 cup chopped carrots (2 medium)
·         3/4 cup chopped celery (2 small ribs)
1 1/2 Tbsp minced fresh garlic (4 cloves)
·         2 1/4 cups low-sodium chicken broth
·         1 1/2 Tbsp fresh lemon juice
·         1 1/3 cups long grain white rice
·         2 tsp Italian seasoning
·         1 tsp paprika
·         3 Tbsp chopped parsley
Instructions:
Preheat oven to 400 degrees.
Heat olive oil a large oven safe pot over medium-high heat (I use a 6-quart enameled pot).
Dab thighs dry with paper towels, season both sides with salt and pepper.
Place in pot skin side down, leaving space around each thigh. Let cook until golden brown on bottom, about 3 – 4 minutes. Turn and continue and cook 2 – 3 minutes longer. Transfer to a plate.
Drain of all but 1 Tbsp rendered fat in pot* then return pot to medium-high heat. Add onions, carrots, and celery, saute 3 minutes. Add garlic and saute 1 minute longer.
Pour in chicken broth and lemon juice and bring mixture to a boil.
Meanwhile in a small bowl stir together Italian seasoning and paprika. Season both sides of chicken with seasoning.
Add rice into pot once broth reaches a boil, give it a quick stir. Remove from heat, place thighs on top of rice mixture. Cover pot with snug fitting oven safe lid.
Bake in oven until rice is tender and chicken is cooked through, about 35 minutes.
Remove thighs from rice, add parsley to rice and fluff with a fork. Serve warm… Enjoy9