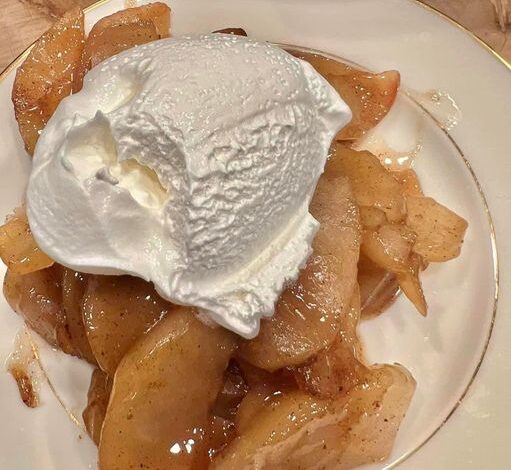 For the Baked Cinnamon Apples:
4 medium apples (such as Granny Smith or Honeycrisp), peeled, cored, and sliced
2 tablespoons lemon juice
1 teaspoon ground cinnamon
1/4 teaspoon ground nutmeg
2 tablespoons granulated sugar (or a sugar substitute for fewer points)
1/4 cup water….
For the Cream Topping:-
1/2 cup non-fat Greek yogurt
1/2 teaspoon vanilla extract
1 teaspoon honey (optional, for sweetness)
Ground cinnamon for garnish
Instructions:-
Preheat your oven to 375°F (190°C).
In a large bowl, toss the sliced apples with lemon juice to prevent browning.
In a separate bowl, mix together the ground cinnamon, ground nutmeg, and granulated sugar (or sugar substitute).
Add the spice mixture to the sliced apples and toss to coat them evenly.
Place the seasoned apples in a baking dish, and add 1/4 cup of water to the bottom of the dish to prevent sticking and help create a sauce as the apples bake.
Cover the baking dish with aluminum foil and bake in the preheated oven for about 20-25 minutes, or until the apples are tender and slightly caramelized.
While the apples are baking, prepare the cream topping. In a small bowl, combine the non-fat Greek yogurt, vanilla extract, and honey (if using). Mix well to combine.
Once the apples are done, remove them from the oven and allow them to cool slightly.
To serve, spoon the baked cinnamon apples into individual bowls or dessert dishes. Top each serving with a dollop of the cream topping.
Garnish with a sprinkle of ground cinnamon for extra flavor.
Enjoy your Weight Watchers-friendly baked cinnamon apples with cream topping!….