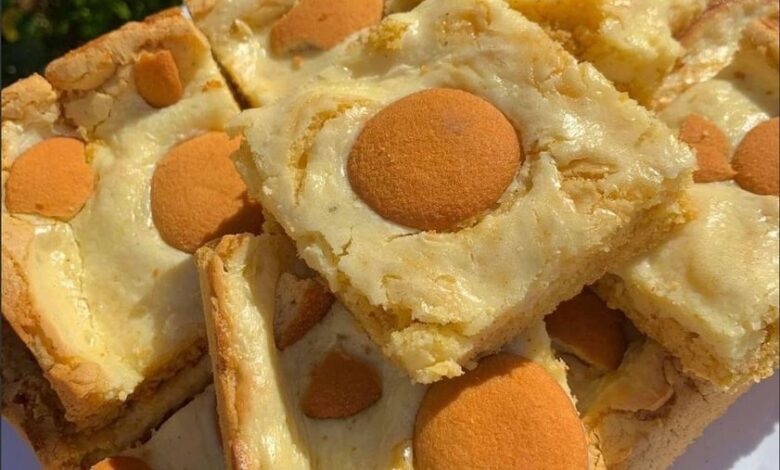 Ingredients:
For the Brownies:
1 cup all-purpose flour
1/2 cup unsweetened cocoa powder
1/2 teaspoon baking powder
1/2 teaspoon salt
1/2 cup unsalted butter, melted
1 cup granulated sugar
2 large eggs
1 teaspoon vanilla extract
2 ripe bananas, mashed
For the Banana Pudding Layer:
1 (3.4-ounce) box of instant banana pudding mix
1 1/2 cups cold milk
For the Topping:
1 cup whipped cream
Sliced bananas and crushed vanilla wafers (optional, for garnish)
Instructions:
Preheat your oven to 350°F (175°C) and grease a 9×9-inch baking dish.
In a mixing bowl, whisk together the flour, cocoa powder, baking powder, and salt.
In another bowl, mix the melted butter and sugar until well combined. Add the eggs and vanilla extract, and continue mixing until smooth.
Stir in the mashed bananas.
Gradually add the dry ingredients to the wet ingredients and mix until the batter is smooth.
Pour the brownie batter into the prepared baking dish and spread it out evenly.
Bake the brownies for about 25-30 minutes, or until a toothpick inserted into the center comes out with a few moist crumbs (you want the brownies to be slightly underbaked as they will continue to cook when you add the pudding layer).
While the brownies are baking, prepare the banana pudding according to the package instructions by mixing the pudding mix with cold milk. Let it set in the refrigerator.
Once the brownies are done and have cooled for a few minutes, spread the banana pudding on top of the brownie layer.
Allow the brownies and pudding to cool completely in the refrigerator.
Before serving, top the Banana Pudding Brownies with whipped cream and garnish with sliced bananas and crushed vanilla wafers if desired.
Slice and enjoy!
These Banana Pudding Brownies are a delicious twist on classic brownies. The combination of chocolate and banana flavors with the creamy pudding layer is sure to be a hit with your family and friends.