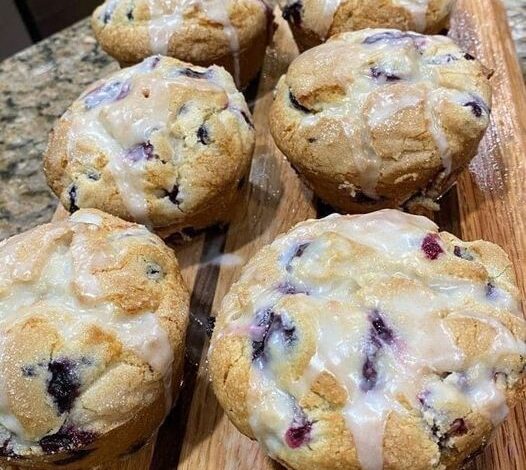 1 1/2 cups all-purpose flour
1/2 cup granulated sugar (or a sugar substitute for fewer points)
1 1/2 teaspoons baking powder
1/2 teaspoon baking soda
1/4 teaspoon salt
1 cup non-fat Greek yogurt
1/4 cup unsweetened applesauce
2 tablespoons lemon juice
Zest of one lemon
2 large eggs
1 teaspoon vanilla extract
1 cup fresh or frozen blueberries (if using frozen, do not thaw)
Instructions:
Preheat your oven to 350°F (175°C). Line a muffin tin with paper liners or lightly coat the muffin cups with non-stick cooking spray.
In a medium-sized bowl, whisk together the flour, sugar (or sugar substitute), baking powder, baking soda, and salt.
In another bowl, combine the non-fat Greek yogurt, unsweetened applesauce, lemon juice, lemon zest, eggs, and vanilla extract. Mix until well combined.
Gradually add the dry ingredients to the wet ingredients and stir until just combined. Be careful not to overmix; it's okay if there are a few lumps.
Gently fold in the blueberries.
Divide the muffin batter evenly among the muffin cups.
Bake in the preheated oven for about 18-22 minutes, or until a toothpick inserted into the center of a muffin comes out clean or with a few moist crumbs.
Allow the muffins to cool in the pan for a few minutes before transferring them to a wire rack to cool completely.
Once cooled, you can enjoy these lemon blueberry muffins as a WW-friendly snack or breakfast option.