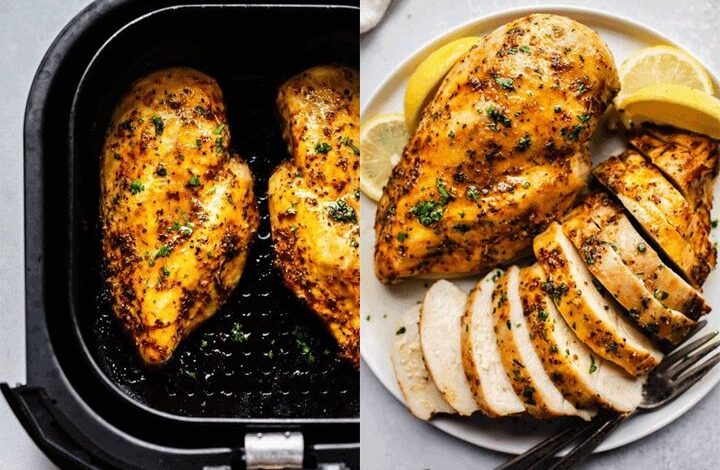 Ingredients:
2 boneless, skinless chicken breasts
1 tablespoon olive oil
1 teaspoon paprika
1/2 teaspoon garlic powder
1/2 teaspoon onion powder
1/2 teaspoon ground cumin
1/2 teaspoon ground coriander
1/2 teaspoon salt
1/4 teaspoon black pepper
Optional: cayenne pepper for some heat
Instructions:
Preheat your air fryer to 375°F (190°C).
In a small bowl, mix together the olive oil and all of the spices (paprika, garlic powder, onion powder, cumin, coriander, salt, and pepper).
Pat the chicken breasts dry with paper towels. This helps the spice mixture adhere better to the chicken.
Brush the spice mixture evenly over both sides of the chicken breasts. Make sure to coat them well.
Place the seasoned chicken breasts in the air fryer basket in a single layer. If your air fryer is on the smaller side, you may need to cook them one at a time.
Cook the chicken breasts in the preheated air fryer for 20-25 minutes, flipping them halfway through the cooking time. The exact time can vary depending on the size and thickness of the chicken breasts and the specific model of your air fryer. They're done when the internal temperature reaches 165°F (74°C) and the exterior is crispy and golden.
Once cooked, remove the chicken breasts from the air fryer, and let them rest for a couple of minutes before slicing or serving.
Serve your air fryer spiced chicken breasts with your favorite side dishes, such as a salad, vegetables, or rice.