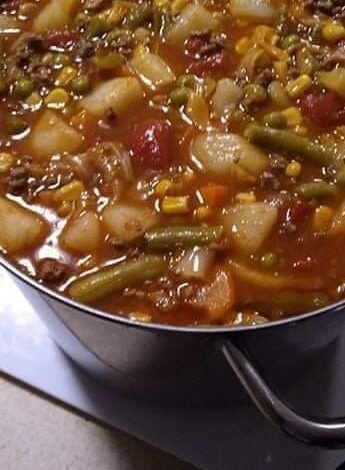 PREP TIME: 20 minutes
TOTAL TIME: 2 hours 50 minutes
Serves 8
INGREDIENTS
3 Tbsp olive oil
2 lb cubed beef stew meat (1 1/4″)
1 med onion, diced
3 cloves garlic, minced
12 oz beer (pale lager)
3 1/2 c beef broth
2 Tbsp tomato paste
1 Tbsp Worcestershire sauce
1 1/2 tsp sugar
1/2 tsp paprika
8 new potatoes (1 1/2″-2″ diameter), quartered
4 carrots, sliced diagonally
3 Tbsp all-purpose flour
Finely chopped fresh parsley (optional)
Crusty bread (optional)
INSTRUCTIONS
1. Heat oil in large pot or Dutch oven over medium-high heat. Season beef. Working in 2 batches, brown meat on all sides, 6 minutes. Remove to plate.
2. Add onion to pot and reduce heat to low. Cook, stirring, until softened, 3 minutes. Add garlic and cook, stirring, 1 minute.
3. Pour in beer. Add broth, tomato paste, Worcestershire, sugar, paprika, 1/2 tsp kosher salt, and pepper to taste.
4. Return beef to pot. Simmer until meat is tender, 1 1/2 to 2 hours.
5. Stir in potatoes and carrots. Simmer until vegetables are tender and meat is very tender, 30 to 40 minutes longer.
6. Remove 1 cup of liquid from pot and slowly whisk in flour. Stir back into pot and bring to a gentle boil. Reduce heat and simmer until thickened, 10 minutes. Season. Sprinkle with parsley (if using). Serve with bread, if desired.
Enjoy!!