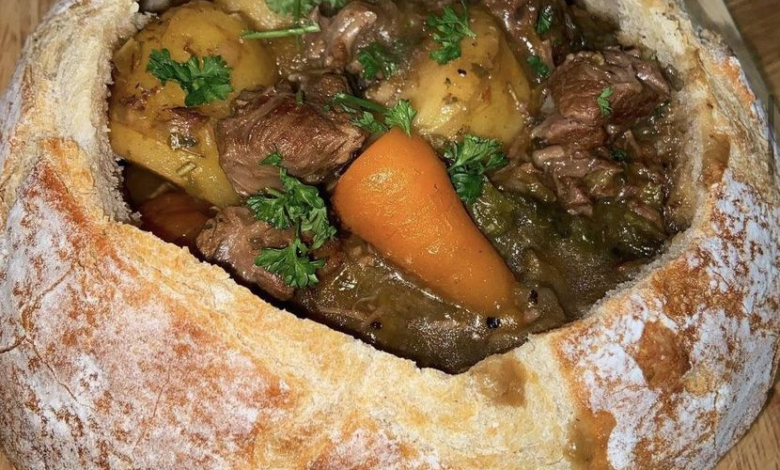 Here's a recipe for a delicious Weight Watchers-friendly beef stew served in a bread bowl. This hearty meal is not only tasty but also relatively low in calories and points, making it a great choice for those following a Weight Watchers program. Keep in mind that the specific point values may vary based on the ingredients and serving sizes you use.
Ingredients:
For the Stew:
1 lb (450g) lean beef stew meat, trimmed of excess fat
1 onion, chopped
2 cloves garlic, minced
2 carrots, peeled and sliced
2 celery stalks, sliced
2 cups low-sodium beef broth
1 cup water
1 can (14 oz) diced tomatoes, undrained
1 teaspoon dried thyme
1 teaspoon dried rosemary
Salt and pepper to taste
Cooking spray
For the Bread Bowls:
4 whole-grain bread bowls (choose ones that fit your dietary preferences and Weight Watchers points)
Instructions:
In a large pot, coat the bottom with cooking spray and heat over medium-high heat.
Add the beef stew meat and brown it on all sides. This should take about 5-7 minutes. Remove the beef from the pot and set it aside.
In the same pot, add the chopped onions and garlic. Sauté until the onions become translucent, about 3-5 minutes.
Return the browned beef to the pot and add the carrots, celery, beef broth, water, diced tomatoes, thyme, and rosemary.
Bring the mixture to a boil, then reduce the heat to low and let it simmer, covered, for about 1 to 1.5 hours, or until the beef is tender and the stew has thickened. Stir occasionally.
Season the stew with salt and pepper to taste.
While the stew is simmering, you can prepare the bread bowls. Preheat your oven to the recommended temperature on the bread bowl packaging.
Cut a lid off the top of each bread bowl and hollow out the center to create a bowl. Be sure to leave some bread on the sides and bottom to create a sturdy container for the stew.
Place the hollowed-out bread bowls on a baking sheet and bake according to the package instructions until they are warm and slightly crispy.
Once the stew is ready, ladle it into the warm bread bowls.
Serve hot and enjoy your Weight Watchers-friendly beef stew in a bread bowl!
Please note that the number of Weight Watchers points for this meal will depend on the specific brands and quantities of ingredients you use. You may want to calculate the points based on your exact ingredients and portion sizes to ensure accuracy.