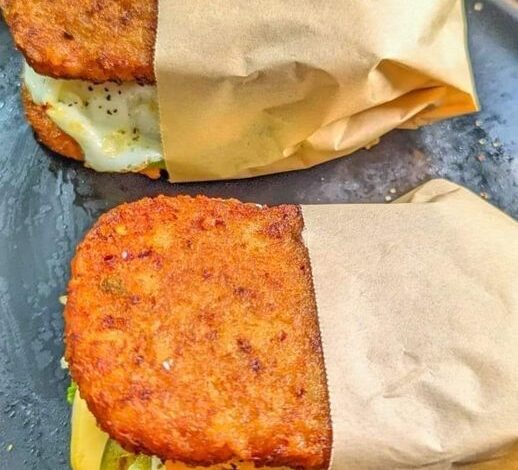 Ingredients:
2 large potatoes (for making hash browns)
Cooking spray or oil for the air fryer
4 large eggs
4 slices of cheese (cheddar, Swiss, or your choice)
4 slices of bread or 2 sandwich buns
Breakfast meat (bacon, sausage, or ham), cooked (optional)
Sliced veggies (bell peppers, onions, mushrooms, etc.), sautéed (optional)
Salt and pepper to taste
Butter or mayonnaise (optional, for spreading on the bread)
Instructions:
Prepare the Hash Browns: a. Peel and grate the potatoes. Place them in a clean kitchen towel and squeeze out excess moisture. b. Season the grated potatoes with salt and pepper to taste. c. Preheat your air fryer to 375°F (190°C). d. Lightly grease the air fryer basket or tray with cooking spray or a small amount of oil. e. Form hash brown patties and place them in the air fryer. You might need to do this in batches, depending on the size of your air fryer. f. Air fry the hash browns for about 12-15 minutes or until they're golden brown and crispy, flipping them halfway through.
Cook the Eggs: a. While the hash browns are cooking, you can prepare the eggs. You can scramble or fry them according to your preference. Season with salt and pepper. b. If you like, you can cook the eggs in a pan, a microwave, or even in the air fryer (using a ramekin) for added convenience.
Assemble the Sandwiches: a. If using bread, you can toast it lightly. b. Place a slice of cheese on one slice of bread or the bottom bun. c. Add the cooked eggs on top of the cheese. d. Place a hash brown patty on top of the eggs. e. Add your choice of breakfast meat or sautéed veggies if desired. f. Top with the second slice of bread or the top bun.
Optional: Spread a small amount of butter or mayonnaise on the bread for added flavor.
Put the sandwich back in the air fryer for a minute or two to melt the cheese and heat the sandwich through, if you prefer a warm sandwich.
Serve your Air Fryer Hash Brown Sandwich hot and enjoy!