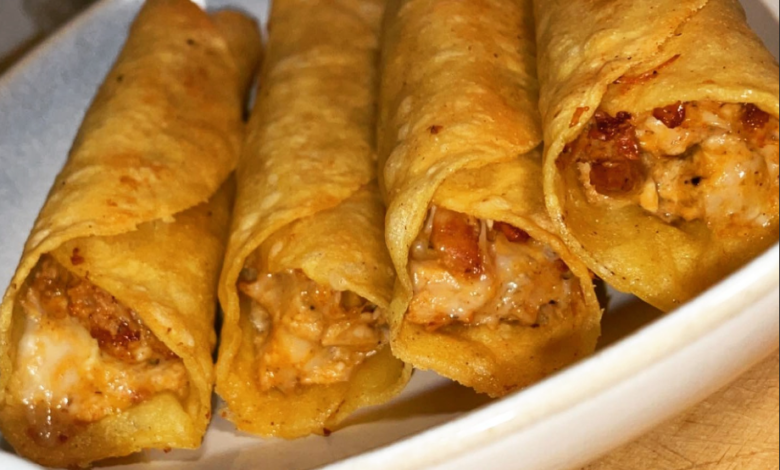 Ingredients:
2 cups shredded cooked chicken (rotisserie chicken works well)
1/2 cup buffalo sauce (adjust to taste)
4 oz cream cheese, softened
1 cup shredded cheddar cheese
1/4 cup green onions, chopped
12 small flour tortillas (6-inch diameter)
Cooking spray
Ranch dressing or blue cheese dressing, for dipping (optional)
Celery sticks, for serving (optional)
Instructions:
Preheat your oven to 425°F (220°C). Line a baking sheet with parchment paper.
In a large mixing bowl, combine the shredded chicken, buffalo sauce, cream cheese, shredded cheddar cheese, and chopped green onions. Mix until well combined.
Warm the tortillas slightly (for about 10 seconds) in the microwave or on a stovetop griddle to make them easier to roll.
Place a generous spoonful of the chicken mixture onto each tortilla, spreading it out in a line along the center.
Roll up each tortilla tightly, securing the seam side down.
Place the rolled taquitos seam side down on the prepared baking sheet.
Lightly spray the tops of the taquitos with cooking spray. This helps them get crispy in the oven.
Bake in the preheated oven for about 15-20 minutes, or until the taquitos are golden brown and crispy.
Optional: Serve with ranch dressing or blue cheese dressing for dipping, and celery sticks on the side.
Enjoy your delicious Buffalo Chicken Taquitos! They make a great appetizer for parties or a tasty snack for game day.