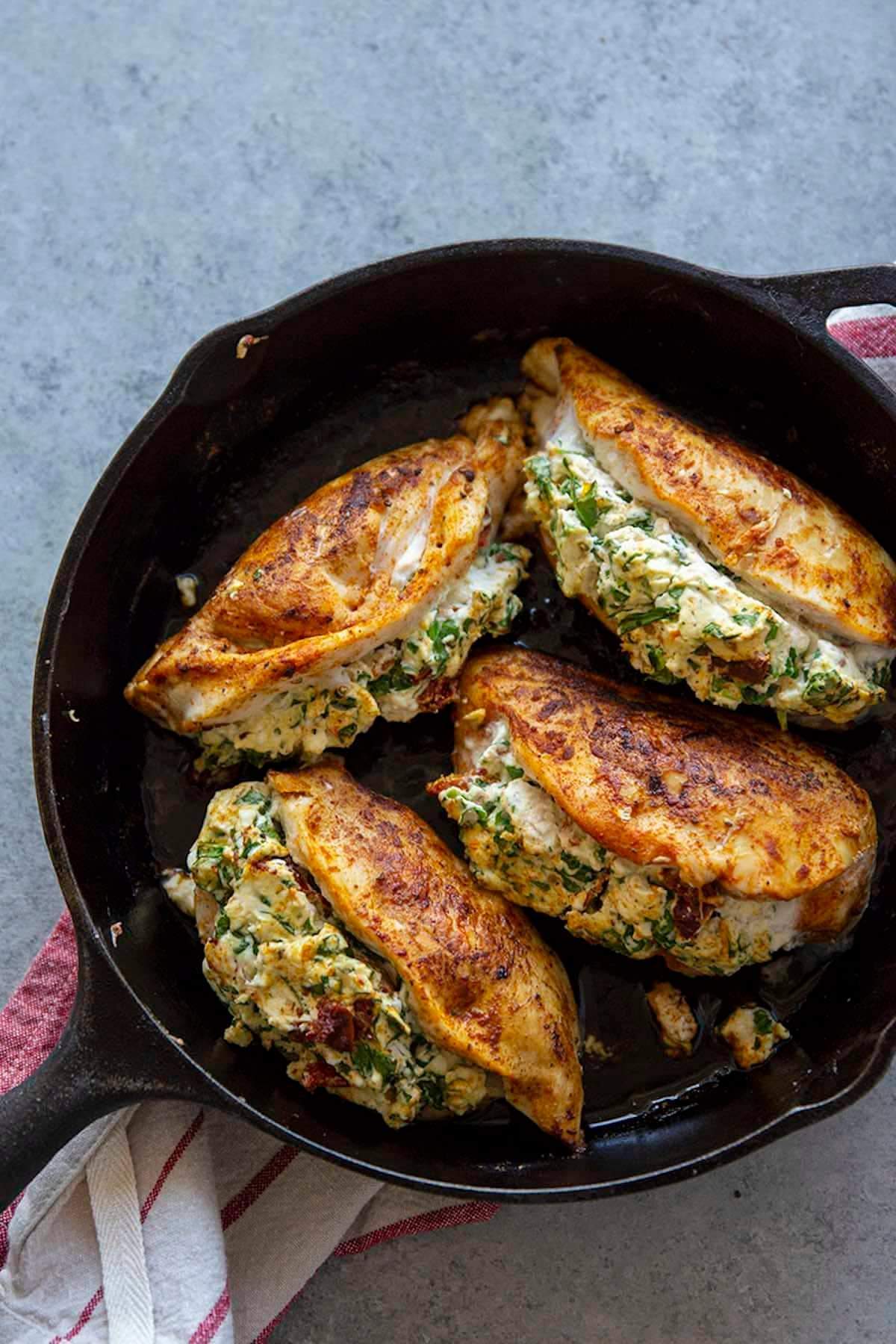 Ingredients needed
You don't need a lot of ingredients to make this stuffed chicken recipe. Here's everything that it calls for.
Chicken breast. Boneless. You may or may not leave the skin on.
Spinach. Baby spinach, chopped.
Cream cheese. Softened for easy mixing.
Sun-dried tomatoes. In oil.
Parmesan. Freshly grated.
Feta. Use feta cheese with a soft and fluffy texture. Avoid using feta that is dry and overly crumbly.
Salt and spices. I use black pepper and smoked paprika for this recipe.
Butter. To cook the chicken breasts. You can also use the cooking oil of your choice.
How to make stuffed chicken breast
While this recipe make look incredibly fancy, it's actually deceptively easy to make and comes together very quickly.
Step 1- Prep the chicken breasts
Butterfly the chicken breasts. This implies cutting the chicken breast horizontally, leaving one edge intact. Fold the chicken breast open and season the outer side with salt, pepper, and smoked paprika.
Step 2- Mix the filling ingredients
In a small bowl, mix cream cheese with grated parmesan cheese, feta cheese, chopped baby spinach and sun-dried tomatoes. Mix until well combined.
Step 3- Stuff the chicken
Put some of the cream cheese filling on one side of the butterflied chicken breast. Fold the other side over to close the chicken breast and secure it with toothpicks.
Step 4- Cook the chicken
Heat a skillet on medium heat. Once hot, add a knob of butter to it and brown the chicken on all sides. Cook until the chicken reaches an internal temperature of 165 degrees in the thickest part.
Can you air fry this?
You can totally make this dish in the air fryer. Air fryer stuffed chicken breast turns out evenly cooked, juicy, and with a perfect golden crust on the chicken. Also, air frying is always healthier than frying food in oil.
To air fry, add the stuffed chicken into a greased air fryer basket. Air fry at 200C/400F for 12 minutes, flipping halfway through.