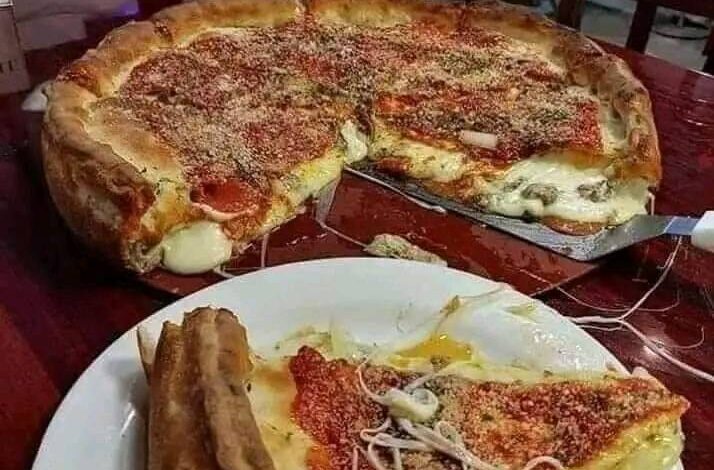 Ingredients:
For the dough:
3 ½ cups all-purpose flour
½ cup cornmeal
1 ¼ teaspoons active dry yeast
1 ¼ cups warm water
2 teaspoons sugar
1 teaspoon salt
¼ cup olive oil
For the filling:
1 pound Italian sausage, crumbled
1 small onion, diced
1 green bell pepper, diced
3 cloves garlic, minced
1 can (28 ounces) crushed tomatoes
1 teaspoon dried oregano
1 teaspoon dried basil
Salt and pepper to taste
3 cups shredded mozzarella cheese
Grated Parmesan cheese (optional)
Olive oil, for greasing the pan
Instructions:
In a small bowl, combine the warm water, sugar, and yeast. Let it sit for about 5 minutes until the mixture becomes frothy.
In a large mixing bowl, combine the flour, cornmeal, and salt. Make a well in the center and pour in the yeast mixture and olive oil. Mix until a dough forms.
Transfer the dough to a floured surface and knead for about 5-7 minutes until smooth and elastic. Form the dough into a ball.
Grease a large bowl with olive oil and place the dough in it. Cover the bowl with a clean kitchen towel and let the dough rise in a warm place for about 1-2 hours, or until it doubles in size.
While the dough is rising, prepare the filling. In a skillet, cook the crumbled Italian sausage over medium heat until browned. Remove the sausage from the skillet and set it aside.
In the same skillet, sauté the diced onion, green pepper, and minced garlic until they are softened and fragrant. Add the crushed tomatoes, dried oregano, dried basil, salt, and pepper. Stir well and simmer for about 10 minutes. Remove from heat.
Preheat your oven to 425°F (220°C). Grease a deep-dish pizza pan or a round cake pan with olive oil.
Punch down the risen dough and transfer it to a floured surface. Roll out the dough into a large circle, slightly larger than the pan.
Carefully transfer the rolled-out dough to the greased pan, pressing it into the bottom and up the sides of the pan.
Sprinkle half of the shredded mozzarella cheese over the dough. Add the cooked Italian sausage evenly over the cheese. Pour the tomato sauce mixture over the sausage, spreading it out.
Sprinkle the remaining shredded mozzarella cheese over the sauce. If desired, add some grated Parmesan cheese on top.
Bake the pizza in the preheated oven for about 25-30 minutes, or until the crust is golden brown and the cheese is bubbly and slightly browned.
Remove the pizza from the oven and let it cool for a few minutes before slicing and serving.