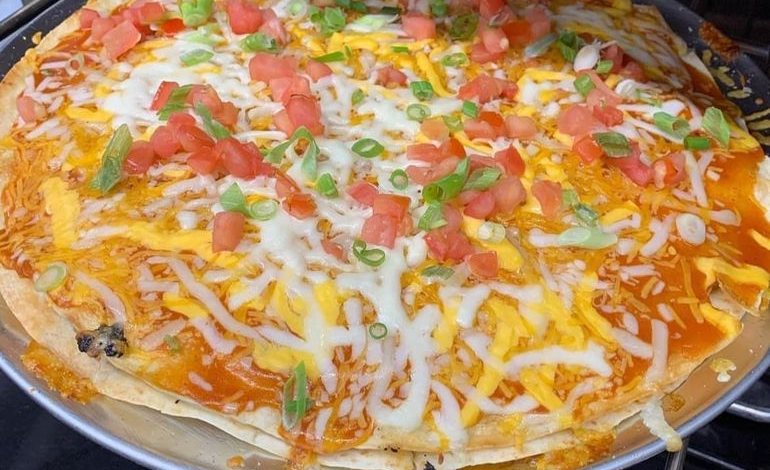 Ingredients:
For the beef mixture:
1 pound ground beef
1 packet taco seasoning mix
2/3 cup water
For the Mexican pizza:
8 small flour tortillas
1 can (16 ounces) refried beans
1 cup shredded cheddar cheese
1 cup shredded Monterey Jack cheese
1 cup diced tomatoes
1/2 cup sliced black olives
1/4 cup chopped green onions
1/4 cup chopped fresh cilantro (optional)
1/4 cup sour cream (optional)
Instructions:
Cook the Beef Mixture:

In a skillet over medium heat, brown the ground beef. Drain any excess fat.
Add the taco seasoning mix and water to the beef. Simmer for about 5 minutes, or until the mixture thickens. Set aside.

Prepare the Refried Beans:

Heat the refried beans in a small saucepan over low heat, stirring occasionally. This will make them easier to spread.

Assemble the Mexican Pizzas:

Preheat your oven to 350°F (175°C).
Lay out four of the flour tortillas on a baking sheet.
Spread a layer of refried beans onto each tortilla.
Add a layer of the beef mixture on top of the beans.
Place the remaining four tortillas on top of the beef mixture to form sandwiches.

Bake:

Place the baking sheet in the preheated oven and bake for about 10-12 minutes, or until the tortillas turn golden brown and crispy.

Add Toppings:

Remove the pizzas from the oven and carefully open them up.
Spread a layer of shredded cheddar cheese and shredded Monterey Jack cheese on top.
Sprinkle diced tomatoes, black olives, and chopped green onions on top of the cheese.

Optional Finishing Touches:

If desired, sprinkle chopped fresh cilantro on top for extra flavor and color.

Serve:

Cut the Mexican pizzas into quarters and serve hot.
You can also add a dollop of sour cream on top if you like.
Enjoy your homemade copycat Taco Bell Mexican Pizza! Remember, you can customize the toppings to your liking.