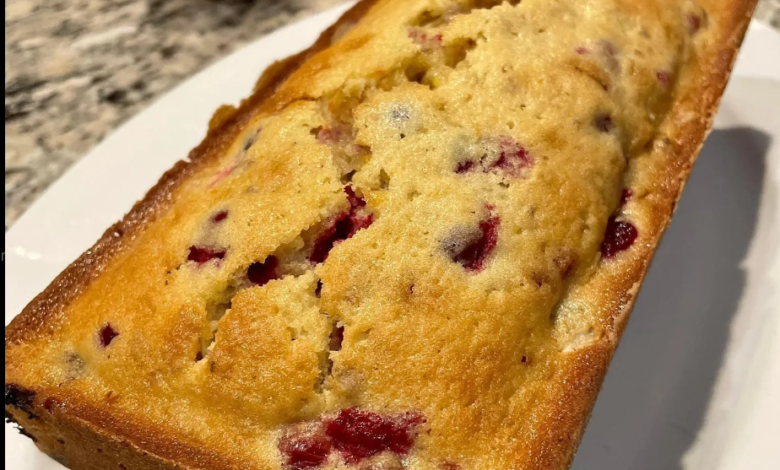 Ingredients:
2 cups all-purpose flour
1 cup granulated sugar
1 1/2 teaspoons baking powder
1/2 teaspoon baking soda
1/2 teaspoon salt
1/4 cup unsalted butter, softened
1 egg
3/4 cup orange juice
1 tablespoon grated orange zest (optional)
1 1/2 cups fresh cranberries, coarsely chopped
1/2 cup chopped nuts (optional)
Instructions:
Preheat your oven to 350°F (175°C). Grease and flour a 9×5-inch loaf pan.
In a medium-sized bowl, whisk together the flour, sugar, baking powder, baking soda, and salt.
In a separate large mixing bowl, cream together the softened butter and egg until well combined.
Gradually add the dry ingredients to the butter and egg mixture, alternating with the orange juice. Begin and end with the dry ingredients. Mix until just combined.
If using, stir in the grated orange zest.
Gently fold in the chopped cranberries and nuts (if using).
Pour the batter into the prepared loaf pan and spread it out evenly.
Bake in the preheated oven for about 60-70 minutes, or until a toothpick inserted into the center comes out clean.
Allow the bread to cool in the pan for about 10 minutes, then transfer it to a wire rack to cool completely.
Once cooled, slice and serve!
Note: You can customize this recipe by adding things like cinnamon, nutmeg, or other spices to suit your taste. Also, feel free to adjust the sweetness or add more nuts or cranberries if you prefer!
Enjoy your cranberry bread!