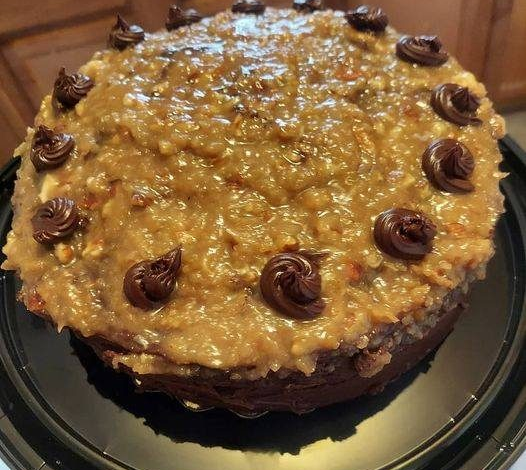 Ingredients:
For the cake:
2 cups almond flour
1/2 cup unsweetened cocoa powder
1/2 cup erythritol or preferred keto-friendly sweetener
1/4 cup coconut flour
1/4 cup ground flaxseed (optional, for extra fiber)
1 tablespoon baking powder
1/2 teaspoon salt
4 large eggs
1/2 cup unsweetened almond milk
1/2 cup melted butter or coconut oil
1 teaspoon vanilla extract
1/2 teaspoon almond extract (optional)
For the frosting:
1 cup unsweetened shredded coconut
1/2 cup chopped pecans
1/4 cup erythritol or preferred keto-friendly sweetener
1/4 cup butter
1/4 cup heavy cream
1/2 teaspoon vanilla extract
1/4 teaspoon almond extract (optional)
Instructions:
Preheat Oven: Preheat your oven to 350°F (175°C). Grease two 8-inch round cake pans and line the bottoms with parchment paper.
Prepare Dry Ingredients: In a large mixing bowl, whisk together almond flour, cocoa powder, erythritol, coconut flour, ground flaxseed (if using), baking powder, and salt.
Combine Wet Ingredients: In a separate bowl, whisk together the eggs, almond milk, melted butter or coconut oil, vanilla extract, and almond extract (if using).
Combine Wet and Dry Ingredients: Pour the wet ingredients into the dry ingredients and stir until well combined.
Divide Batter: Divide the batter evenly between the prepared cake pans and smooth the tops.
Bake: Bake in the preheated oven for 25-30 minutes, or until a toothpick inserted into the center of the cakes comes out clean.
Cool: Allow the cakes to cool in the pans for 10 minutes, then remove them from the pans and transfer to a wire rack to cool completely.
Prepare Frosting: While the cakes are cooling, prepare the frosting. In a medium saucepan, combine the shredded coconut, chopped pecans, erythritol, butter, and heavy cream. Cook over medium heat, stirring constantly, until the mixture thickens and becomes caramelized (about 5-7 minutes). Remove from heat and stir in the vanilla extract and almond extract (if using). Allow the frosting to cool.
Assemble the Cake: Once the cakes and frosting are completely cool, spread a layer of the frosting on top of one of the cakes. Place the second cake on top and spread the remaining frosting on top.
Serve: Slice and serve your delicious Keto German Chocolate Cake. Enjoy!
Keep in mind that the nutrition facts may vary based on the specific ingredients and brands you use, so be sure to calculate it based on your own ingredients if you have specific dietary requirements.