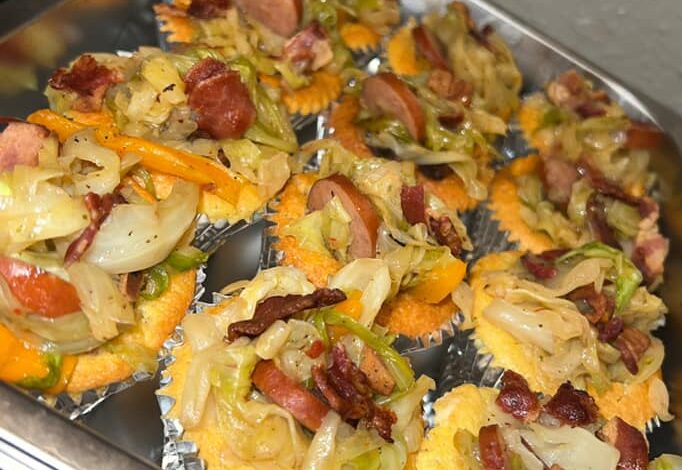 Ingredients:
1 small head of cabbage, shredded
1 cup self-rising flour
1/2 cup cornmeal
1/2 teaspoon baking powder
1/2 teaspoon salt
1/4 teaspoon black pepper
1/4 teaspoon paprika
1/4 teaspoon garlic powder
1/4 teaspoon onion powder
1/2 cup buttermilk
2 eggs, beaten
1/4 cup vegetable oil
Instructions:
Preheat your oven to 375°F (190°C). Grease a muffin tin or line it with paper liners.
In a large bowl, combine the shredded cabbage, self-rising flour, cornmeal, baking powder, salt, black pepper, paprika, garlic powder, and onion powder. Mix well to ensure the cabbage is evenly coated with the dry ingredients.
In a separate bowl, whisk together the buttermilk, beaten eggs, and vegetable oil.
Pour the wet ingredients into the cabbage mixture and stir until everything is well combined. The batter should be thick and sticky.
Spoon the batter into the prepared muffin tin, filling each cup about 3/4 full. Smooth the tops with the back of a spoon.
Bake in the preheated oven for about 20-25 minutes, or until the muffins are golden brown and a toothpick inserted into the center comes out clean.
Remove the muffins from the oven and let them cool in the tin for a few minutes. Then transfer them to a wire rack to cool completely.
Serve the fried cabbage muffins warm or at room temperature. They can be enjoyed as a side dish with your favorite soul food meals.
Enjoy!