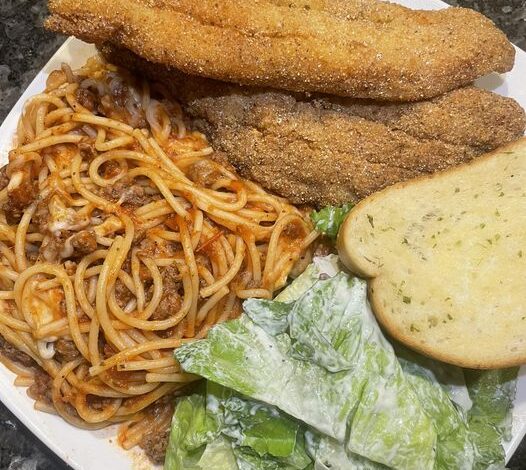 Fried catfish and spaghetti is a combo I never knew I needed. Spaghetti in a hearty, meaty tomato sauce accompanied by hot, crispy, tender, and flaky fish.
Ingredients
For the Catfish
2 pounds catfish fillets, washed and cleaned
1 10 oz Louisiana Seasoned Crispy Fish Fry
Tajin
For the Spaghetti
2 tablespoons extra-virgin olive oil
1/2 pound ground beef
1/2 pound ground Spicy Italian sausage
1 medium sized white onion, finely diced
1 medium sized green bell pepper, finely diced
1 teaspoon seasoned salt
¼ teaspoon black pepper
4 garlic cloves, minced
2 (15-ounce) cans tomato sauce
1 (15-ounce) can crushed tomatoes with their juices
¼ cup chicken stock
2 tablespoons granulated sugar
1 tablespoon tomato paste
1 tablespoon Worcestershire sauce
1 tablespoon Italian seasoning
parsley leaves, chopped, plus more for serving
basil leaves, chopped, plus more for serving
red-pepper flakes
salt to taste
1 pound dry spaghetti, cooked according to package instructions
Instructions
In a medium bowl, mix together the Louisiana fish fry with 1 to 3 dashes of the Tajin. Add the catfish fillets, turning to coat each side. Set aside while you prepare the fish.
For the pasta sauce: Heat some olive oil in a large skillet over medium-high heat. Add the ground meat, onion, green pepper, seasoned salt and black pepper. Cook until the meat is browned and cooked through and the vegetables have softened, about 5 to 7 minutes. Add garlic and cook just until fragrant, 30 seconds.
Add tomato sauce, crushed tomatoes, stock, sugar, tomato paste, Worcestershire sauce, Italian seasoning, parsley, basil and red-pepper flakes. Mix to combine, and continue to simmer until sauce has thickened, about 20 to 30 minutes.
While the sauce is cooking, bring a large pot of salted water to a boil. Cook pasta according to package directions. Take care to not overcook the pasta.
Prepare the fish for frying: Heat vegetable oil over medium-high in a large (12-inch) cast-iron skillet. You want the oil to be hot, but don't exceed 370 degrees to avoid burning the fish.
Working in batches, fry fillets until golden brown, about 5 minutes, flipping occasionally with tongs. Avoid crowding the pan, so that the fillets have room to brown properly. Fish should be crispy on the outside, and moist and flaky on the inside. Drain on paper towels.
Toss the spaghetti into the simmered sauce. Serve immediately with the fried fish.
Nutrition Information:
YIELD:
 6
SERVING SIZE:
 1
Amount Per Serving: CALORIES: 911TOTAL FAT: 36gSATURATED FAT: 10gTRANS FAT: 0gUNSATURATED FAT: 24gCHOLESTEROL: 169mgSODIUM: 1308mgCARBOHYDRATES: 82gFIBER: 5gSUGAR: 16gPROTEIN: 61g