Soul Food
Fried chicken baked Mac cheese collard greens 🤤😍😋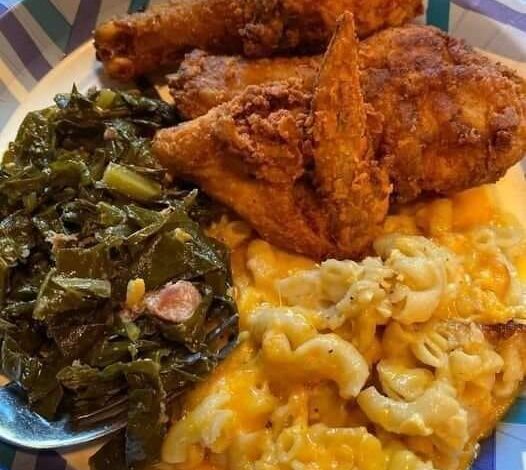 Ingredients:
2 cups elbow macaroni
3 cups shredded sharp cheddar cheese
1 cup whole milk
2 tablespoons unsalted butter
2 tablespoons all-purpose flour
1/2 teaspoon garlic powder
1/2 teaspoon onion powder
1/4 teaspoon mustard powder
Salt and pepper to taste
Instructions:
Cook the elbow macaroni according to the package instructions until al dente. Drain and set aside.
Preheat your oven to 350°F (175°C).
In a large saucepan, melt the butter over medium heat. Add the flour and whisk continuously for 1-2 minutes until the mixture becomes smooth and bubbly.
Gradually add the milk while whisking constantly. Continue cooking and whisking until the mixture thickens.
Reduce the heat to low and add the shredded cheddar cheese, garlic powder, onion powder, mustard powder, salt, and pepper. Stir until the cheese has melted and the sauce is smooth.
Remove the saucepan from heat and add the cooked macaroni. Stir well to coat the macaroni with the cheese sauce.
Transfer the mac and cheese mixture to a greased baking dish. Sprinkle some additional shredded cheese on top if desired.
Bake in the preheated oven for 20-25 minutes or until the top is golden and bubbly. Serve hot.
Collard Greens: Ingredients:
2 bunches collard greens, washed and stems removed
6 slices bacon, chopped
1 onion, chopped
3 cloves garlic, minced
4 cups chicken or vegetable broth
1 tablespoon apple cider vinegar
Salt and pepper to taste
Hot sauce (optional)
Instructions:
Stack the collard green leaves, roll them up, and slice them into thin strips

In a large pot or Dutch oven, cook the chopped bacon over medium heat until crispy.
Add the chopped onion to the pot and cook until it becomes translucent.
Stir in the minced garlic and cook for an additional minute.
Add the collard greens to the pot and pour in the chicken or vegetable broth.
Bring the mixture to a simmer and reduce the heat to low. Cover the pot and let it cook for about 1 to 1.5 hours, stirring occasionally, until the collard greens are tender.
Stir in the apple cider vinegar and season with salt and pepper to taste. If desired, add a few dashes of hot sauce for extra heat.
Continue cooking the collard greens for another 10 minutes to allow the flavors to meld together.
Serve the collard greens hot as a side dish with the fried chicken and baked mac and cheese.

Enjoy your delicious soul food meal!