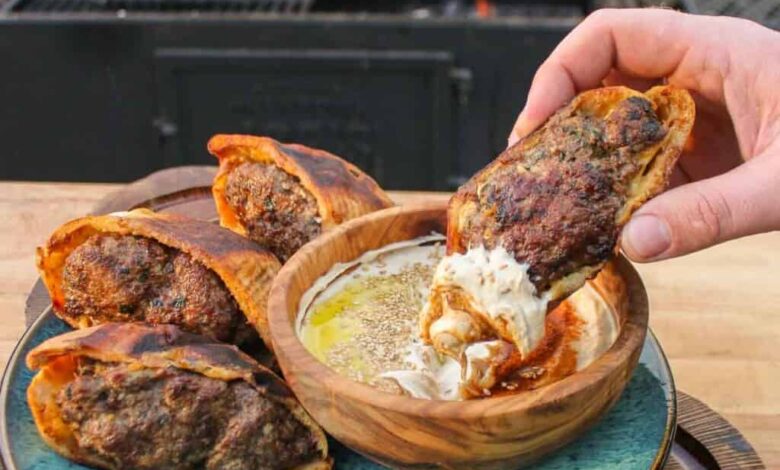 INGREDIENTS
STUFFING:
2

 

lbs

 

Ground Lamb

2.5

 

tbsp

 

Chopped Parsley

2

 

tbsp

 

Minced Garlic

2

 

tbsp

 

Grated Onion

 

squeezed

1

 

tbsp

 

Smoked Paprika

2

 

tsp

 

Ground Cumin

2

 

tsp

 

Ground Cinnamon

1

 

tsp

 

Ground Coriander

Kosher Salt

 

to taste
ARAYES:
5-6

 

Whole Pita Bread

2

 

cups

 

Smoked Gouda

 

cubed
TAHINI SAUCE:
1

 

cup

 

Tahini Paste

2

 

medium Lemons

 

juiced

4

 

Garlic Cloves

 

pressed

1

 

tbsp

 

Ground Cumin

Kosher Salt

 

to taste

Water

 

to ideal texture
GARNISH:
Sesame Seeds

Smoked Paprika

Chopped Parsley

Olive Oil
INSTRUCTIONS
Begin by adding the ground lamb to a bowl and mixing with the rest of the ingredients for the stuffing. Tip: make sure to squeeze the onions dry so that the ayares are not soggy. Once mixed, slice your pita bread in half and open it up so it has a pocket. Take a handful of the stuffing and carefully add into the pocket of the pita bread making sure to leave a hole in the middle to stuff some cheese. Encase some of the cubed cheese into the arayes and cover with more stuffing. Repeat this process so that all your pita is stuffed full. Place the arayres in the fridge for 15 minutes to firm.

In another bowl, add your tahini paste along with all the other ingredients for the sauce. As you mix, the sauce will thicken. Add water to the sauce slowly and mix until you have a thin peanut butter like consistency. Set to the side until ready to serve.

Preheat your grill for a two zone method at high heat (around 400F) for direct cooking. Add a cast iron skillet over the flames 2 minutes before cooking.

Add plenty of oil to the skillet and once it is smoking, add your arayes meat side down to the skillet. Sear the raw meat until you have developed a nice crust (about 40-60 seconds), then flip the arayes to its side and sear both sides for another 40-60 seconds. Once everything is crispy and seared, pull the arayes off the skillet and place on the cooler side of the grill. Let them cook at 350F for 20-30 minutes until the meat is 160F internal. Make sure to flip them over every 5-7 minutes for even cooking. Once done, pull off and let cool for 5 minutes.

Serve the arayes with the tahini sauce garnished with olive oil, sesame seeds, paprika and parsley. Enjoy!