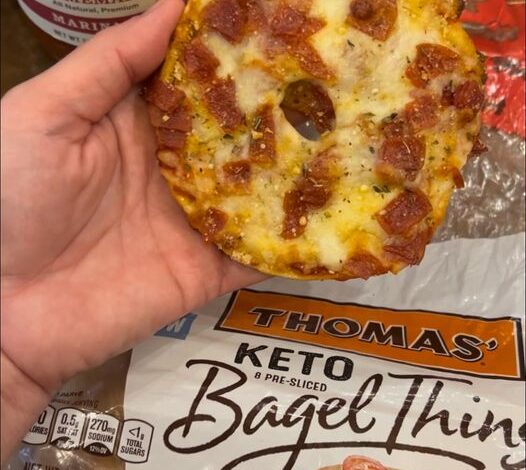 Ingredients:
Bagel Thins:

2 cups mozzarella cheese, shredded
3/4 cup almond flour
2 tablespoons cream cheese
1 large egg
1 teaspoon baking powder

Herb Garlic Butter:

2 tablespoons unsalted butter, melted
1 teaspoon garlic powder
1 teaspoon dried Italian herbs (oregano, basil, thyme)

Pizza Toppings:

1/2 cup Rao's marinara sauce (or any low-carb marinara)
1 1/2 cups shredded mozzarella cheese
Diced pepperoni (as desired)

Finishing Touch:

Grated Parmesan cheese
Italian seasoning
Free Keto Meal Plan : KETO DIET PLAN FOR BEGINNERS STEP BY STEP GUIDE
Instructions:
Preheat the Oven: Preheat your oven to 400°F (200°C).
Make Bagel Thins: a. In a microwave-safe bowl, combine 2 cups of shredded mozzarella cheese and cream cheese. Microwave in 30-second intervals, stirring in between, until melted and well combined. b. In another bowl, mix almond flour and baking powder. c. Add the almond flour mixture and the egg to the melted cheese. Mix until a dough forms. d. Divide the dough into 4 portions and shape them into thin bagel rounds. Place them on a parchment-lined baking sheet.
Bake Bagel Thins: Bake the bagel thins in the preheated oven for about 10-12 minutes or until they are golden brown.
Prepare Herb Garlic Butter: Mix melted butter with garlic powder and dried Italian herbs. Brush the bagel thins with this mixture.
Assemble Pizza: a. Spread a thin layer of marinara sauce on each bagel thin. b. Sprinkle shredded mozzarella cheese over the sauce. c. Add diced pepperoni or other desired toppings.
Bake Pizza: Return the pizzas to the oven and bake for an additional 12-15 minutes or until the cheese is melted and bubbly.
Finish: Sprinkle grated Parmesan cheese and Italian seasoning over the pizzas immediately after removing them from the oven.
Serve: Allow the pizzas to cool for a few minutes before slicing and serving.
Free Keto Meal Plan : KETO DIET PLAN FOR BEGINNERS STEP BY STEP GUIDE