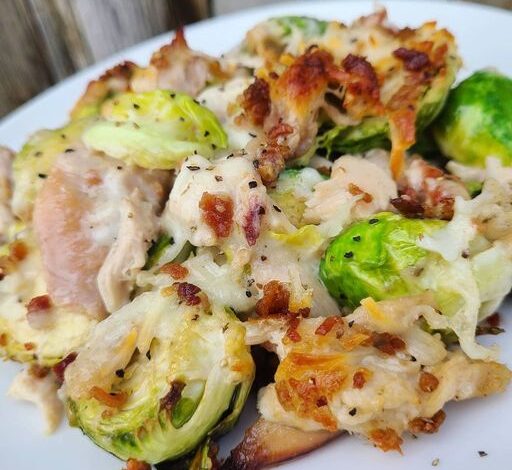 Ingredients:
Brussels Sprouts:

12 oz. Brussels sprouts, washed and halved
2 tablespoons olive oil
Salt and pepper to taste

Chicken:

2 cups shredded rotisserie chicken

Cheese Topping:

1 1/2 cups shredded mozzarella cheese

Bacon Crumbles:

1/4 cup bacon crumbles (ensure they are sugar-free)

Caesar Dressing:

1/4 cup keto-friendly Caesar dressing (look for one with minimal carbs and no added sugars)
Free Keto Meal Plan : KETO DIET PLAN FOR BEGINNERS STEP BY STEP GUIDE
Instructions:
Preheat the Oven: Preheat your oven to 400°F (200°C).
Prepare Brussels Sprouts: a. Toss the halved Brussels sprouts in olive oil, salt, and pepper. b. Roast them in the preheated oven for about 15-20 minutes or until they are slightly tender and have a golden brown color.
Assemble the Bake: a. In a baking dish, combine the shredded rotisserie chicken and roasted Brussels sprouts. b. Drizzle the Caesar dressing over the mixture and toss until everything is well coated.
Add Cheese and Bacon: a. Sprinkle the shredded mozzarella cheese over the chicken and Brussels sprouts. b. Scatter bacon crumbles evenly on top.
Bake: Place the baking dish back in the oven and bake for an additional 10-15 minutes, or until the cheese is melted and bubbly.
Broil (Optional): If you want a golden, crispy top, you can broil the dish for an additional 1-2 minutes, but keep a close eye on it to prevent burning.
Serve: Once the cheese is melted and bubbly, remove the dish from the oven. Allow it to cool for a few minutes before serving.
Free Keto Meal Plan : KETO DIET PLAN FOR BEGINNERS STEP BY STEP GUIDE