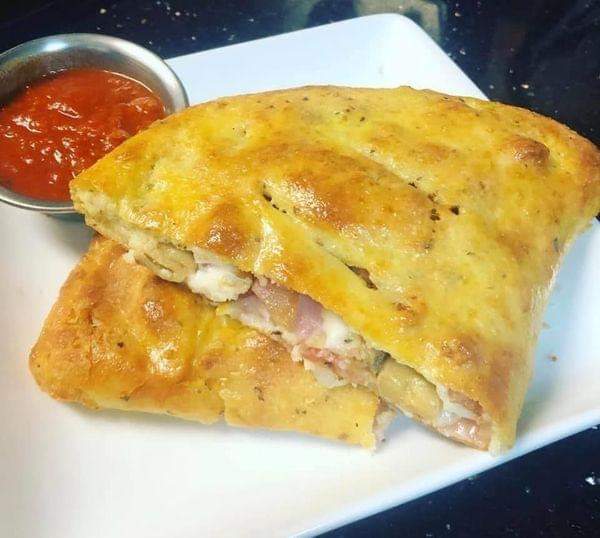 INGREDIENTS:
For the Calzone Crust
1 1/2 cups shredded mozzarella
2 ounces cream cheese
1 egg
3/4 cup almond flour
1/2 teaspoon baking powder
1 tsp Italian seasoning
For the Filling
You can use just about anything
-I used bacon, ham, mushroom, Italian blend cheese
For the Topping
1 egg beaten
Heat your oven to 375°F.
Add 1 1/2 cups shredded mozzarella and 2 ounces cream cheese to a microwave-safe bowl.
Melt the cheeses in the microwave for a total of 90 seconds in 30 second intervals, stirring between each interval.
To the same bowl, add 1 egg, almond flour, and baking powder.
Knead all the ingredients together with your hands until incorporated to create a large dough ball.
Divide the dough into 3 equal parts.
Roll out the dough parts into 8-inch circles in between two layers of parchment paper.
Remove the top layer of parchment paper and carefully transfer the bottom layer of parchment paper with the dough circles on it to a baking sheet.
Add your fillings
Fold the other half of the dough over and fold edges to seal.
Use The topping to lightly brush the egg over the top of each calzone.
Using a knife, make 3-4 slits in the top of each calzone about an inch apart.
Bake for 20-26 minutes or until tops are golden brown.
Add pizza sauce on the side for dipping!