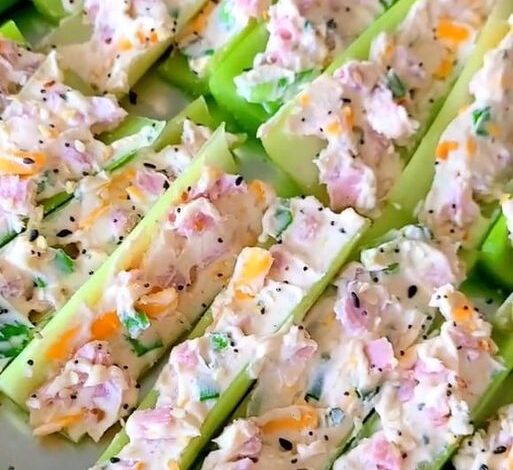 Ingredients:
8 oz cream cheese, softened
1 cup shredded cheddar cheese
1/4 cup grated Parmesan cheese
1/4 cup chopped fresh parsley
1/4 cup chopped green onions
1 clove garlic, minced
1/2 teaspoon onion powder
1/2 teaspoon garlic powder
1/2 teaspoon dried dill
1/4 teaspoon salt
1/4 teaspoon black pepper
Celery sticks (cleaned and trimmed) for serving
Instructions:
In a mixing bowl, combine softened cream cheese, shredded cheddar cheese, grated Parmesan cheese, chopped parsley, chopped green onions, minced garlic, onion powder, garlic powder, dried dill, salt, and black pepper. Mix everything together until well combined.
Place the mixture onto a sheet of plastic wrap or parchment paper and form it into a ball shape. Wrap the cheeseball tightly with the plastic wrap or parchment paper and refrigerate it for at least 1 hour or until firm.
Once the cheeseball has chilled and solidified, remove it from the refrigerator. Unwrap the cheeseball and roll it gently in additional chopped parsley or any other herbs you like for garnish.
Serve the cheeseball with celery sticks as dippers. You can also serve it with other low-carb veggies or keto-friendly crackers if desired.
Enjoy your Keto Cheeseball Celery Sticks as a tasty and satisfying appetizer or snack for your keto-friendly gatherings or parties.
Note: You can also customize this recipe by adding different herbs, spices, or nuts to the cheeseball mixture for added flavor and texture. Also, feel free to adjust the seasonings to suit your taste preferences