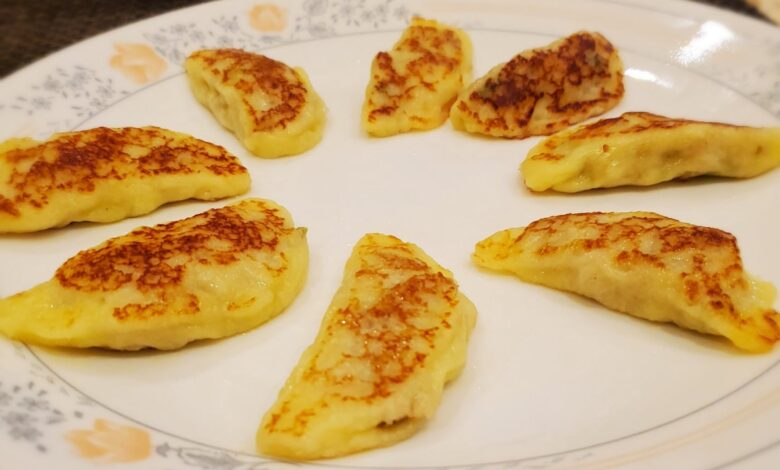 Ingredients:
For the cauliflower wrapper:
1 small head of cauliflower, florets separated
1 large egg
1/2 cup shredded mozzarella cheese
1/2 teaspoon garlic powder
Salt and pepper to taste
For the filling:
1/2 pound ground pork (or other preferred protein)
1/4 cup chopped green onions
2 cloves garlic, minced
1 teaspoon grated ginger
1 tablespoon soy sauce or tamari (for gluten-free)
1 tablespoon sesame oil
Salt and pepper to taste
For cooking:
2 tablespoons cooking oil (avocado oil, coconut oil, etc.)
1/4 cup water
Instructions:
Prepare the Cauliflower Wrapper:

Steam or microwave the cauliflower florets until they are soft. Allow them to cool slightly.
Place the steamed cauliflower in a food processor and pulse until it reaches a rice-like consistency.
Transfer the cauliflower rice to a clean kitchen towel and squeeze out as much moisture as possible.
In a bowl, mix the cauliflower rice, shredded mozzarella, egg, garlic powder, salt, and pepper until well combined.
Microwave the mixture for about 2-3 minutes, stirring occasionally, until the cheese is melted and the mixture comes together.
Allow the mixture to cool slightly before handling.

Prepare the Filling:

In a separate bowl, mix together the ground pork, chopped green onions, minced garlic, grated ginger, soy sauce, sesame oil, salt, and pepper. Mix until the filling is well combined.

Assemble the Potstickers:

Take a small amount of the cauliflower mixture and press it between your palms to flatten it into a circle, about 3-4 inches in diameter.
Place a small spoonful of the filling in the center of the cauliflower circle.
Fold the circle in half, sealing the edges by pressing and pinching them together. You can crimp the edges with a fork for a decorative touch.
Repeat this process with the remaining cauliflower mixture and filling.

Cook the Potstickers:

In a skillet, heat the cooking oil over medium heat.
Place the potstickers in the skillet, flat side down, and cook until the bottoms are golden brown and crispy, about 2-3 minutes.
Carefully add 1/4 cup of water to the skillet and immediately cover with a lid. Steam the potstickers for an additional 3-4 minutes, or until the filling is cooked through.

Serve and Enjoy:

Once the potstickers are cooked, remove them from the skillet and serve them with a dipping sauce of your choice, such as soy sauce, tamari, or a keto-friendly dipping sauce.
These Keto Potstickers are a fun and flavorful option that replaces traditional wrappers with a cauliflower-based alternative. They can be served as an appetizer or main dish, and the filling can be customized to your preferences. Enjoy!