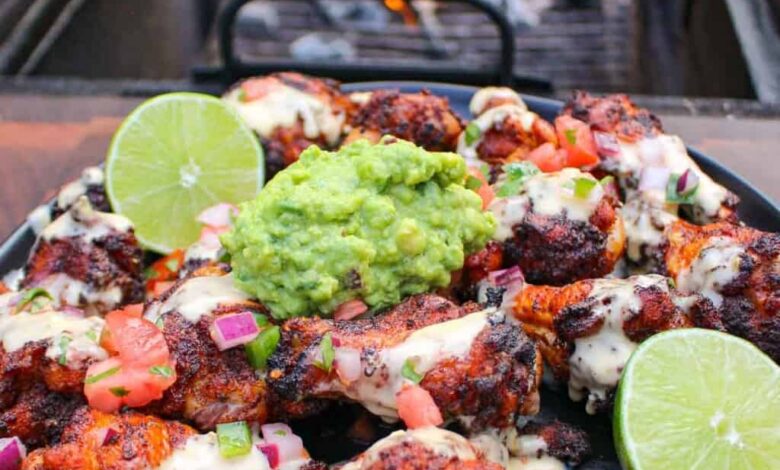 PREP TIME:30MINUTES MINUTES
COOK TIME:1HOUR HOUR
TOTAL TIME:1HOUR HOUR 30MINUTES MINUTES
COURSE:APPETIZER, LUNCH, MAIN COURSE
CUISINE:AMERICAN
SERVINGS:4 PEOPLE
INGREDIENTS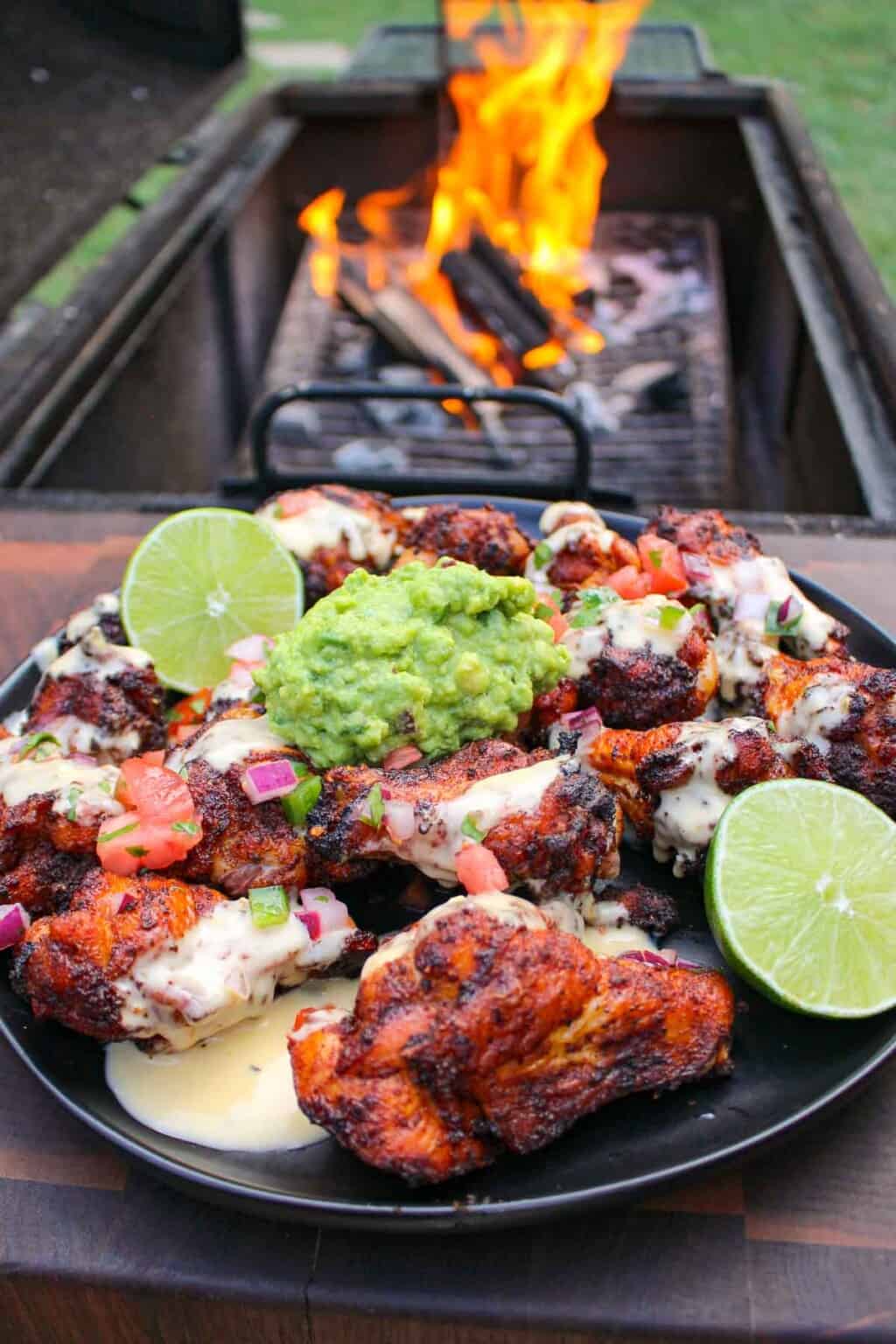 CHICKEN:
▢1.5 lbs Chicken Wings
▢1 cup Favorite BBQ Seasoning
▢2 tbsp Hot Sauce
▢1 qt Frying Oil for frying
▢2 cups Queso melted & hot
GUACAMOLE:
▢3 Large Avocados
▢¼ cup Diced Red Onions
▢⅛ tbsp Chopped Cilantro
▢2-3 medium Limes juiced
▢Kosher Salt to taste
PICO DE GALLO:
▢2 Tomatoes diced
▢2.5 tbsp of Red Onions diced
▢1 whole Jalapeno diced
▢1.5 tbsp of Cilantro chopped
▢1 tsp of Coarse Sea Salt
▢3 medium Limes juiced
INSTRUCTIONS
Slather your chicken wings in hot sauce then add your favorite bbq seasoning. Mix thoroughly. Set chicken aside until ready to use.
Preheat your smoker to 250F for indirect cooking. Add some hickory wood chunks for added smoke flavor if desired.
Add your chicken wings to the smoker and cook for about 1.5-2 hours or until 165F internal.
As the wings are close to done, preheat a grill, fire pit or stovetop for direct cooking.
Add a Dutch oven to it and *carefully* add your frying oil (leaving at least 2-3" of space from the oil and the top of the skillet).
Heat up the frying oil for 325-350F.
Once the wings are done, pull them off and let them rest for 2-3 minutes.
Carefully add wings to frying oil and cook for 2 minutes. Flip occasionally.
Once done, pull off and place on a paper towel to cool for 5 minutes.
In a bowl mix together all the ingredients for the Pico de Gallo.
In another bowl, mash your avocados and mix all the ingredients for the Guacamole.
Add your wings to a plate and drizzle the queso over the top. Add the pico de gallo and a scoop of guacamole.
Serve and enjoy!