Recipes
One Pan Shrimp Fettuccine Alfredo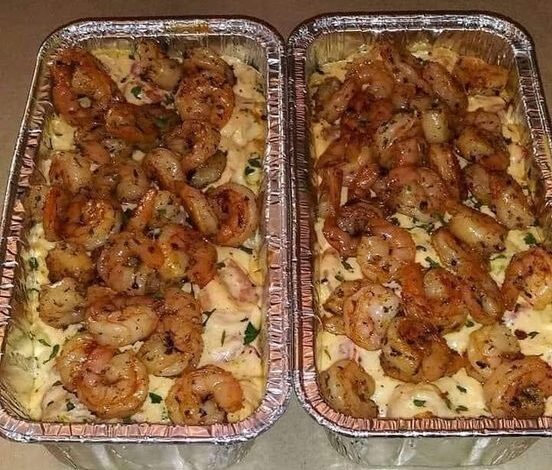 This One Pan Shrimp Fettuccine Alfredo is a creamy and satisfying dish that's easy to prepare and requires minimal cleanup. Here's how you can make this delicious meal:
Ingredients:
8 oz (225g) fettuccine pasta
1 lb (450g) large shrimp, peeled and deveined
2 tablespoons butter
2 cloves garlic, minced
1 cup heavy cream
1 cup grated Parmesan cheese
Salt and black pepper to taste
Fresh parsley, chopped (for garnish)
Red pepper flakes (optional, for extra heat)
Instructions:
Cook the Fettuccine:

In a large pan, bring water to a boil. Add a pinch of salt and the fettuccine pasta. Cook according to the package instructions until al dente. Once cooked, drain and set aside.

Cook the Shrimp:

In the same pan, melt the butter over medium heat. Add the minced garlic and sauté for about 1 minute until fragrant.
Add the shrimp to the pan and cook for 2-3 minutes on each side, or until they turn pink and opaque. Remove the cooked shrimp from the pan and set them aside.

Prepare the Alfredo Sauce:

In the same pan, pour in the heavy cream and bring it to a gentle simmer.
Gradually add the grated Parmesan cheese, stirring constantly until the cheese is melted and the sauce is smooth and creamy.

Combine and Season:

Return the cooked fettuccine to the pan with the Alfredo sauce. Toss the pasta in the sauce to coat evenly.
Add the cooked shrimp back to the pan and gently toss them with the pasta.

Season and Garnish:

Season the dish with salt and black pepper to taste. If you like a bit of heat, you can also sprinkle some red pepper flakes.
Garnish the One Pan Shrimp Fettuccine Alfredo with chopped fresh parsley for a burst of color and flavor.

Serve:

Serve the dish immediately, while it's still warm. The creamy Alfredo sauce perfectly coats the fettuccine and shrimp, creating a delightful combination of flavors and textures.
This One Pan Shrimp Fettuccine Alfredo is a fantastic option for a quick and satisfying meal that combines the richness of Alfredo sauce with this