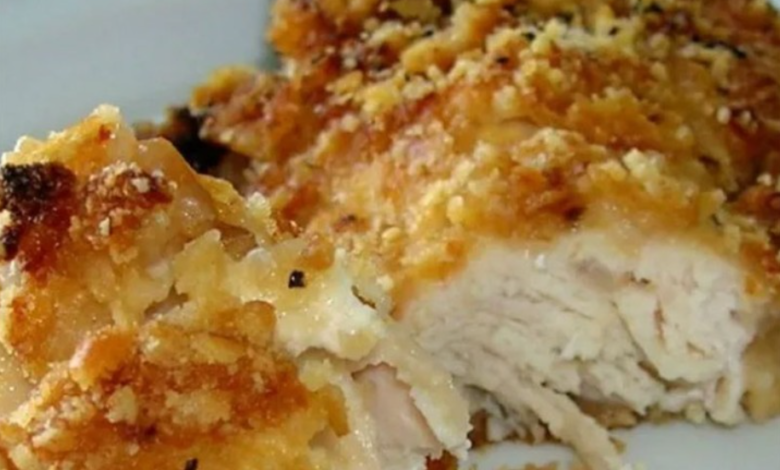 Ingredients:
4 boneless, skinless chicken breasts
Salt and black pepper, to taste
1 cup grated Parmesan cheese
1 cup breadcrumbs
2 large eggs
2 tablespoons milk
1 teaspoon dried oregano
1 teaspoon dried basil
1 teaspoon garlic powder
Olive oil, for cooking
Instructions:
Preheat your oven to 375°F (190°C).
If the chicken breasts are very thick, you can use a meat mallet to gently pound them to an even thickness. This helps the chicken cook more evenly.
Season both sides of the chicken breasts with salt and black pepper.
In a shallow dish, mix together the grated Parmesan cheese, breadcrumbs, dried oregano, dried basil, and garlic powder.
In a separate shallow dish, whisk together the eggs and milk.
Dip each chicken breast into the egg mixture, allowing any excess to drip off, then coat it in the breadcrumb mixture, pressing gently to adhere.
Heat a large ovenproof skillet over medium-high heat and add enough olive oil to coat the bottom.
Once the oil is hot, add the breaded chicken breasts and cook for about 2-3 minutes on each side, or until they are golden brown.
Transfer the skillet to the preheated oven and bake for about 15-20 minutes, or until the chicken is cooked through and reaches an internal temperature of 165°F (74°C).
Optional: If you'd like, you can sprinkle a little extra Parmesan cheese on top of each chicken breast during the last few minutes of baking for extra flavor.
Let the chicken rest for a few minutes before serving.
Serve your Parmesan Chicken with a side of vegetables, salad, or pasta. Enjoy your delicious meal!