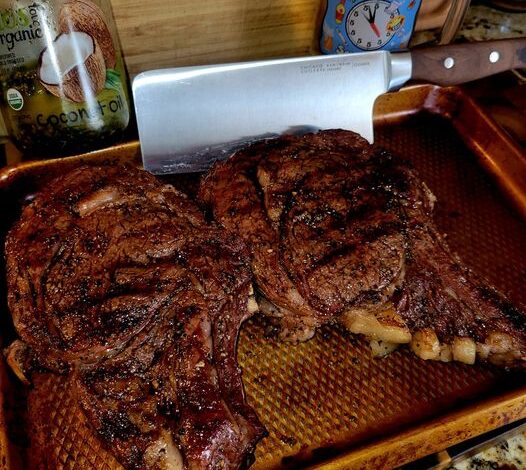 Whip up a perfect Grilled Ribeye in 30 minutes! With just 3 ingredients, you'll have a seared, tender steak with a flavorful, buttery crust.
ngredients
2

 

lbs

 

Rib Eye Steak

 

(See Note 1)

2

 

tsp

 

Montreal seasoning

 

(See Note 2)

2

 

tbsp 

compound butter

 

(See Note 3)
Instructions
Remove compound butter (See Note 3) from refrigerator to come to room temperature and slice into 1/2″ pieces. Set aside.

Gently massage the Montreal seasoning (See Note 2) over both sides of each rib eye steak (See Note 1) and let the meat dry marinate for at least 20 minutes. In the meantime start up the grill to 450°F to 500°F for a great sear.

Take the seasoned steaks to the hot grill, cook for 3 to 4 minutes on each side for medium-rare, longer if desired (this is for 1-inch or thicker). See Note 4 for cooking times and temperature.

Top with a slice of compound butter before removing from grill.

Remove steaks and let rest for 5 to 10 minutes before slicing.
Notes
Choose a well marbled with fat, 1 inch thick bone in or boneless rib eye steak.
I have a homemade Montreal Seasoning recipe that has less salt than store bought. You will only be using 2 teaspoons or less for this recipe if making my homemade Montreal recipe.
I use either my Compound Herb Butter or Compound Herb Cheese Butter recipe. You'll need to make ahead or just use plain butter. Fresh cilantro, basil and other herbs can also be used, it's up to your own tastes. Experiment!
COOKING TIMES FOR STEAK (BASED ON 1 INCH THICKNESS)
If you like your steak rare or well done, here is a quick breakdown of internal temperatures for each:
Rare – 125°F – Center is bright red; pinkish towards the outside
Medium-Rare – 135°F – Center is very pink; slightly brown towards the outside
Medium – 145°F – Center is light pink; outer portion is brown
Medium-Well – 155°F – Center is slightly pink; outer portion is brown
Well – 165°F – Uniformly brown throughout
Nutrition
Calories: 
1050
kcal
 | 
Carbohydrates: 
1
g
 | 
Protein: 
92
g
 | 
Fat: 
76
g
 | 
Saturated Fat: 
36
g
 | 
Cholesterol: 
307
mg
 | 
Sodium: 
336
mg
 | 
Potassium: 
1216
mg
 | 
Fiber: 
1
g
 | 
Sugar: 
1
g
 | 
Vitamin A: 
471
IU
 | 
Calcium: 
52
mg
 | 
Iron: 
9
mg