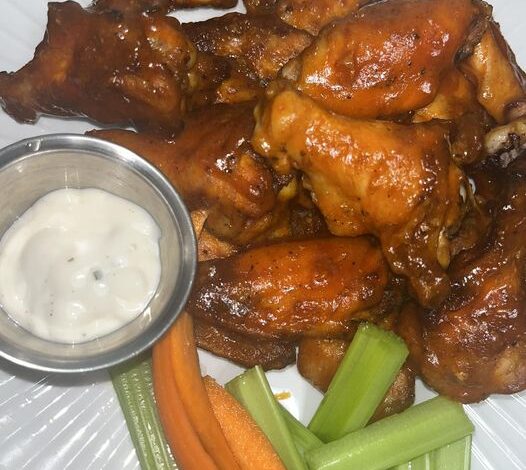 Ready In:50mins
Ingredients:5
Serves:4-6
INGREDIENTS
3

lbs chicken wings

2

tablespoons cooking oil

soul seasoning (I use "All Island Soul Seasoning") (optional)

2

teaspoons hot sauce (or more)

3

tablespoons butter
DIRECTIONS
Preheat oven to 400°F.
Prepare chicken wings by using poultry shears and sniping off the wing tips (discard, or freeze for other use, like stock), and snip at remaining wing joint. This gives you "2" wings per wing.
Spread oil on baking sheet.
Spread wings in single layer on baking sheet.
You may choose to slide wings around on the oiled sheet, to put a light coating of oil on the wings. Less oil on wings makes for slightly less crispness.a bit of oil helps seasoning stick. You could omit oil, and spray with a good quality non-stick olive oil product.
This step is optional. Sprinkle as liberally as you dare with your choice of seasoning. This is where experimentation comes in, be daring, try what's in your spice cabinet, however I've come to like a common "All Island Soul Seasoning", with a touch of cayanne or ground red or white pepper. If you're cutting back on salt, be cautious of prepared seasoning, as they have a lot of sodium.
Bake until browned, cooked through, and a bit crispy. About 40 minutes. Use your nose and eyes to check! I use my convection setting on my oven too, which cuts on the cooking time, but makes a nice crisp even coating.
Remove from oven, and cool for about 15 minutes.
Melt butter and mix with hot sauce. (again. amount of hot sauce to your taste).
Toss with the wings in a serving bowl with the butter/hot sauce mixture.
Serve with your favorite Blue Cheese Dressing and celery sticks.