Recipes
Salisbury Steak Garlic Mashed Potatoes Mushroom and Onion Sauce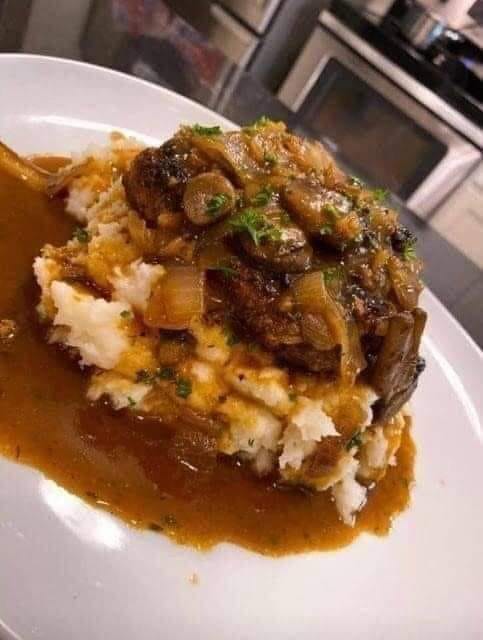 ingredients :
+For steak:
°1/3 cup of rusk
°1 egg
°1 small yellow onion grated
°1 teaspoon kosher salt
°1/2 teaspoon black pepper
°1 pound lean ground beef, such as 90/10
°1 tablespoon of extra virgin olive oil
+For the mushroom broth:
°2 tablespoons of butter
°8 oz. sliced mushrooms I used small portobellas (cremini)
°2 tablespoons of all-purpose flour
°2 cups beef broth
°Kosher salt to taste
°Black pepper to taste
*Methods :
In a large bowl, mix the grated onion (and its juices), bread crumbs (1/3 cup), egg, kosher salt (1 teaspoon), and black pepper (1/2 teaspoon) until well combined.
Add the ground beef to the bowl and mix with the breadcrumbs and onion mixture. I recommend using your hands for this.
Divide the meat mixture evenly into four. The easiest way to do this is to press the meat mixture into the bottom of the bowl and use your finger to "draw" lines dividing it into four quarters. Form 4 oval patties with your hands about 3/4 of an inch thick.
Heat  skillet on high heat. Only after it gets hot (after about 2 minutes), add the olive oil (1 tablespoon) to the pan and swirl to coat.
Add the patties to the hot skillet and cook for 2 minutes on each side – they should be nicely browned. For the best color, don't move them until the 2 minutes are up.
Remove patties to a plate.
Add the butter (2 tablespoons) to the skillet, then add the sliced mushrooms after it has melted.
Cook the mushrooms for 2 minutes, until golden. Then sprinkle flour (2 tablespoons) on top of the mushrooms. Stir in the mushrooms, brush each with flour and continue cooking for another minute.
Add the beef broth (2 cups), stirring constantly to incorporate the flour, and bring to a simmer.
Add the steaks back to the gravy mixture and simmer, uncovered, for another 5 minutes, or until just cooked through and the gravy has thickened.
notes
Time-saving tip: Form the patties ahead of time and store them in the refrigerator for up to 2 days.
Money-saving tip: Look for ground beef on sale or buy it in bulk to store in your freezer. Take it out of the freezer 24 hours before making this recipe. You can also easily make your own bread crumbs by toasting two slices of bread and using a food processor to break them up.
For a dairy-free version: Use more olive oil instead of butter to make the gravy.
For a gluten-free version: Use gluten-free breadcrumbs for the steak and use cornstarch instead of flour (added after gravy in the slurry) for the gravy.
Enjoy!!