Soul Food
SHRIMP TOMATO SPINACH PASTA IN GARLIC BUTTER SAUCE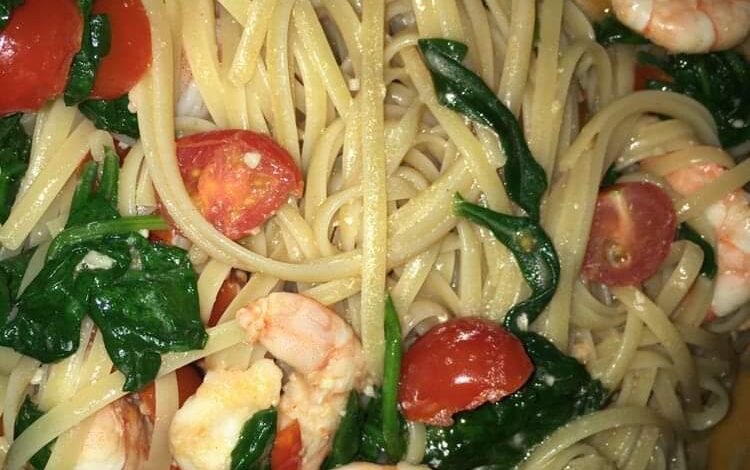 INGREDIENTS
• 4 tbsp butter
• 1 tbsp olive oil
• 5 garlic cloves, minced
• 1 c spinach cooked
• 1 pound shrimp, fresh, uncooked, shelled, and deveined
• ½ tsp crushed red pepper or more
• 10 ounces fettuccine pasta
• 5 tomatoes, medium size, fresh, chopped into large cubes
• ¼ lemon
• ½ c Parmesan cheese grated, for serving
• ¼ tsp paprika
• ¼ tsp salt
INSTRUCTIONS
Place a large skillet on the stove and turn the heat to medium-high
Add 1 tbsp of olive oil and 1 tbsp of butter. Allow them to become hot.
Add ½ of the minced garlic and shrimp. Cook each side of the shrimp for about a minute.
Sprinkle salt and paprika over the shrimp to season.
Add the spinach, ½ tsp of crushed red pepper, tomato slices, and the rest of the minced garlic. Cook for about a minute and remove from the stove.
Refer to the directions provided on the package of the pasta on how to cook it. Drain and rinse with cold water to stop the cooking process.
Add the drained pasta into the skillet with the shrimp mixture. Add 2 tbsp of butter.
Add lemon juice, then toss everything until well combined.
Sprinkle crushed red pepper and salt to taste.
Sprinkle a generous amount of Parmesan cheese on top.
Serve hot and enjoy!