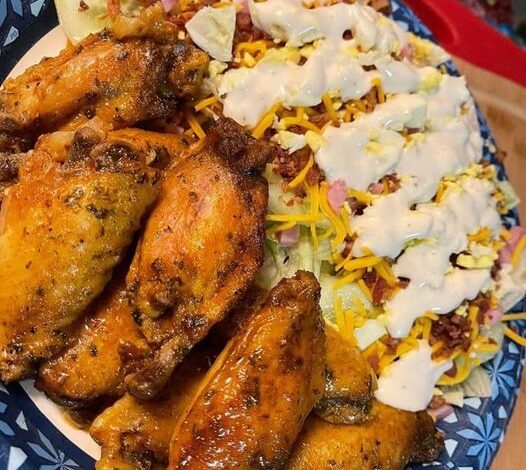 For Hot Wings:
Ingredients:
2 pounds chicken wings
1 cup hot sauce (such as Frank's RedHot)
1/2 cup unsalted butter
1 tablespoon honey
Salt and pepper to taste
Vegetable oil, for frying
Instructions:
Rinse the chicken wings under cold water and pat them dry with paper towels. Season the wings with salt and pepper to taste.
In a deep frying pan or a deep fryer, heat vegetable oil to 375°F (190°C).
Carefully add the chicken wings to the hot oil, a few at a time, and fry them for about 10-12 minutes or until they are golden brown and crispy. Make sure to cook the wings in batches to avoid overcrowding the pan.
Once cooked, remove the wings from the oil and place them on a paper towel-lined plate to drain any excess oil.
In a saucepan, melt the butter over medium heat. Add the hot sauce and honey, and stir until the mixture is well combined and heated through.
Place the fried wings in a large mixing bowl. Pour the hot sauce mixture over the wings and toss until they are well coated.
Serve the hot wings immediately.
For Salad:
Ingredients:
4 cups mixed salad greens
1 cucumber, sliced
1 carrot, grated
Cherry tomatoes, halved
Red onion, thinly sliced
Ranch dressing (or your preferred dressing)
Instructions:
In a large salad bowl, combine the mixed salad greens, cucumber slices, grated carrot, cherry tomatoes, and red onion.
Toss the salad ingredients together until they are well mixed.
Drizzle the desired amount of ranch dressing (or your preferred dressing) over the salad and toss again to coat the ingredients evenly.
Serve the salad alongside the hot wings.
Enjoy .