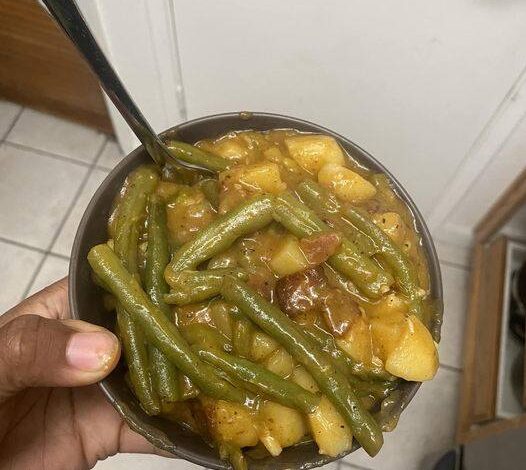 Prep Time: 20 minutes
Cook Time: 30 minutes
Total Time: 50 minutes
Yield: 8 half cup servings
INGREDIENTS
2 slices of thick-cut bacon
.5 cup or 3 ounces of cubed Tasso or smoked ham
.5 tablespoon cooking oil
2 tablespoons all-purpose flour
.5 cups chopped onion
3 garlic cloves
1.5 cups broth (chicken, beef, or vegetable)
16 ounces fresh (cleaned, de-stemmed, and cut), canned (drained), or frozen green beans
2 cups peeled and cut up medium red potatoes (2 potatoes)
1.25 teaspoons House Seasoning or Cajun Seasoning Blend
INSTRUCTIONS
Cook bacon in a heavy large Dutch oven on both sides until brown; remove bacon from pan and set aside.
Brown ham in bacon grease; remove ham from pan and set aside.
Add oil and flour to bacon grease and brown flour to make a light roux.
Add onion to the roux and cook until tender, for about 5 minutes.
Stir in garlic for about a minute.
Pour broth into onion and roux mixture and stir to deglaze the pot.
Add beans, potatoes, ham, bacon, and seasoning to the pot; stir to combine.
Cook on medium-low heat with the pot covered for 30 minutes or until the potatoes and beans are tender.
Garnish with bacon bits.
Store in an airtight container in the refrigerator for up to 3 days, or freeze for up to a month.
NOTES
Potatoes can be omitted.
You may substitute water for the same amount of broth.
Cook the roux until it begins to brown; no dark roux is needed here.
Fresh green beans may take longer to cook than canned or frozen beans.
Brown sugar can be added to sweeten the beans for a sweet version of smothered green beans.