Vegan
Vegan Creamy Tuscan pasta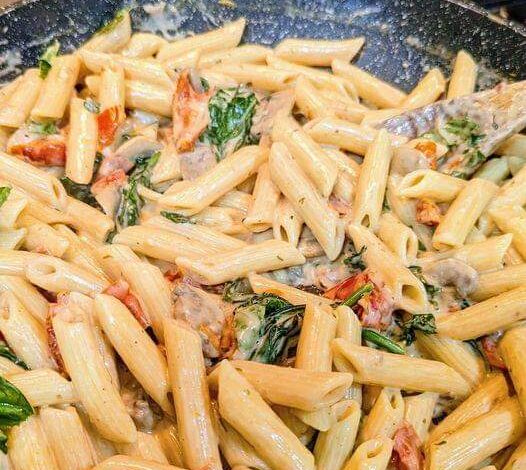 Ingredients:
12 oz. pasta (gluten-free if desired)
1/2 cup raw cashews, soaked in water for at least 4 hours or overnight
1/2 cup unsweetened almond milk
1/4 cup nutritional yeast
2 tbsp. olive oil
1 onion, diced
3 garlic cloves, minced
8 oz. sliced mushrooms
1/2 cup sundried tomatoes, chopped
2 cups baby spinach
1 tsp. dried basil
1 tsp. dried oregano
1/2 tsp. dried thyme
Salt and pepper, to taste
Fresh basil and parsley, chopped (for garnish)
Instructions:
Cook the pasta according to the package directions until al dente.
Drain the soaked cashews and rinse them well. Add them to a blender along with the almond milk and nutritional yeast. Blend on high until smooth and creamy.
In a large skillet over medium heat, heat the olive oil. Add the onion and garlic and sauté for 2-3 minutes, until the onion is translucent.
Add the sliced mushrooms and cook for another 5-7 minutes, until they release their moisture and start to brown.
Add the chopped sundried tomatoes, baby spinach, dried basil, oregano, and thyme. Cook for another 2-3 minutes, until the spinach is wilted.
Add the cashew cream sauce to the skillet and stir well to combine. Cook for another 2-3 minutes, until the sauce is heated through and slightly thickened.
Add the cooked pasta to the skillet and toss well to coat with the sauce.
Season with salt and pepper to taste.
Serve hot, garnished with fresh chopped basil and parsley. Enjoy your delicious vegan Creamy Tuscan pasta!