Vegan
VEGAN ORANGE TOFU CH'KN AND VEGGIESRECIPES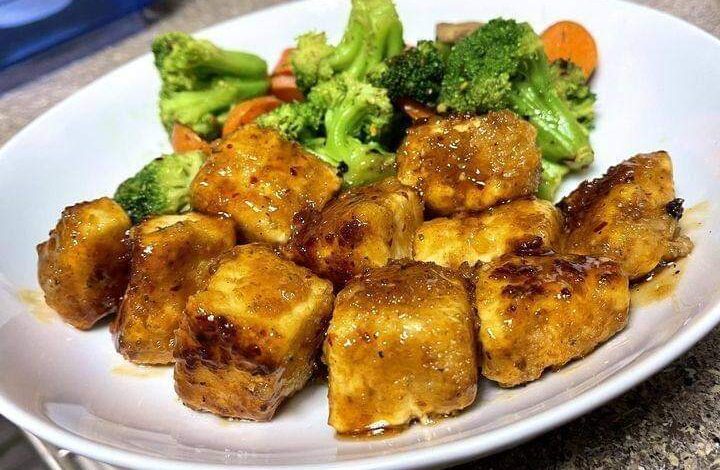 Ingredients:
1 block of extra-firm tofu, pressed and drained
1 cup of fresh orange juice
1/4 cup of soy sauce
1/4 cup of rice vinegar
1 tablespoon of cornstarch
1 tablespoon of brown sugar
2 cloves of garlic, minced
1 tablespoon of grated ginger
2 tablespoons of oil
1 red bell pepper, sliced
1 yellow onion, sliced
2 cups of broccoli florets
1 cup of sliced carrots
2 tablespoons of sesame seeds
Instructions:
Cut the tofu into 1-inch thick slices and set aside.
In a bowl, mix together the orange juice, soy sauce, rice vinegar, cornstarch, brown sugar, garlic, and ginger. Set aside.
Heat a large pan over medium heat and add oil.
Place the tofu slices in the pan and cook for about 5 minutes on each side until golden brown.
Remove the tofu from the pan and set aside.
In the same pan, add the red bell pepper, yellow onion, broccoli, and carrots. Cook for about 5-7 minutes until slightly softened.
Pour the orange sauce mixture over the vegetables and stir to combine.
Add the tofu back into the pan and let it simmer for another 5 minutes until the sauce has thickened.
Sprinkle with sesame seeds and serve hot with rice. Enjoy!