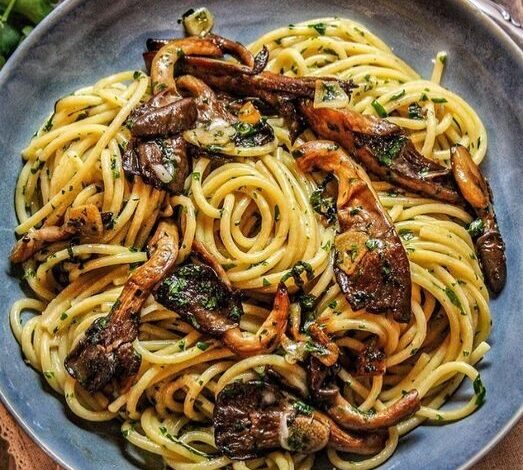 Ingredients:
200g whole wheat spaghetti (or other whole wheat pasta)
10ml extra virgin olive oil
6 cloves garlic, thinly sliced
200g oyster mushrooms, sliced
1/4 cup fresh parsley, chopped
1 tablespoon light butter (with reduced points)
2 tablespoons grated Parmesan cheese (use a reduced-fat version or a WW-friendly alternative)
Red pepper flakes (optional)
Salt and black pepper to taste
Instructions:
Cook the whole wheat pasta in a large pot of salted, boiling water according to the package directions until it's almost al dente. Drain the pasta and set aside, reserving about 60ml of the cooking water.
In a non-stick skillet over medium heat, add the olive oil and then the sliced oyster mushrooms. Cook without stirring for about 3 minutes until one side is browned. Stir occasionally and cook for another minute or two until the mushrooms are tender. If you'd like to add a bit of spice, you can sprinkle some red pepper flakes over the mushrooms.
Reduce the heat to low and add the sliced garlic. Cook the garlic until it turns golden, but be careful not to burn it. Season with salt and black pepper.
Add the drained pasta and the reserved cooking water to the skillet with the mushrooms and garlic. Stir well to combine.
Add the light butter (with reduced points) to the pasta and continue to stir until it melts and coats the pasta.
Sprinkle in the chopped fresh parsley and the grated Parmesan cheese (use a WW-friendly alternative or reduced-fat version). Continue to cook for another minute, ensuring that everything is well combined.
Divide the Aglio e Olio with Oyster Mushrooms into two servings and top with a little more grated Parmesan (or a WW-friendly cheese substitute).
Enjoy your Weight Watchers-friendly Aglio e Olio with Oyster Mushrooms with reduced points compared to the original recipe. Please note that the point values can vary based on the specific products you use, so it's a good idea to calculate the exact SmartPoints for your dish.