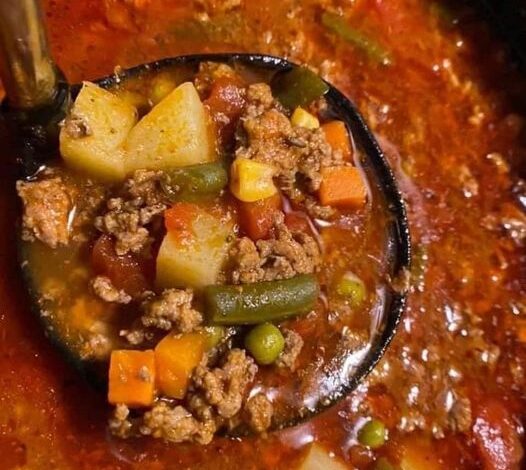 2 pounds ground beef
½ teaspoon salt
¼ teaspoon pepper
¼ teaspoon oregano
¼ teaspoon basil
⅛ teaspoon seasoning salt
1 (2-ounce) package onion soup mix (for 3 or 4 servings)..
6 cups boiling water
1 (8-ounce) can tomato sauce
4 carrots, cut up
½ cup corn
1 cup celery, sliced
1 cup elbow macaroni..
Directions:-
In a large saucepan, brown meat, drain excess fat.
Add salt, pepper, oregano, basil, seasoned salt, and onion soup mix.
Stir in boiling water and tomato sauce. Cover and simmer for about 15 minutes.
Meanwhile, prepare celery and carrots; Then add to simmering mixture with corn and continue to cook for 30 minutes….