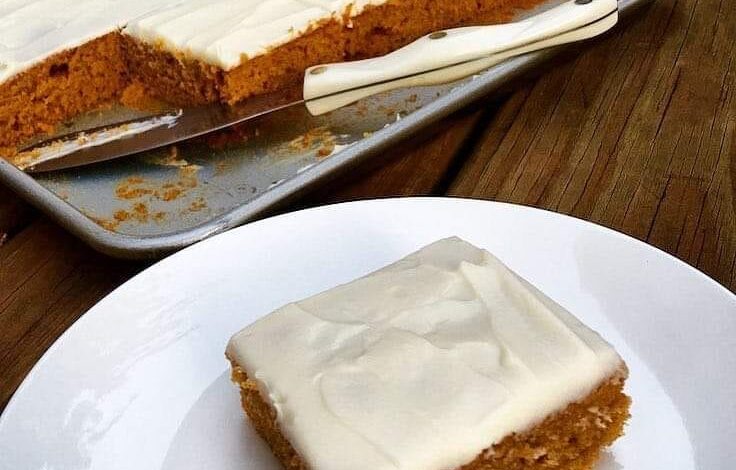 Cake Layer:
Ingredients:
5 eggs
1/2 cup unsweetened applesauce (as a replacement for olive oil)
1 cup Lakanto golden monk fruit sweetener (or other sugar substitute)
1 cup canned pumpkin puree
2 cups almond flour
1 teaspoon baking soda
1 teaspoon baking powder
1/2 teaspoon Pink Himalayan sea salt
1 teaspoon pumpkin pie spice (optional)
Frosting:
Ingredients:
16 ounces fat-free Greek yogurt cream cheese, softened
8 tablespoons light butter or margarine, softened
1 cup powdered Lakanto golden monk fruit sweetener (or other sugar substitute)
1 teaspoon vanilla extract
1/2 teaspoon almond extract
10 drops liquid stevia (optional)
1-2 tablespoons unsweetened almond milk, as needed for consistency
Instructions:
Cake Layer:
Preheat your oven to 350 degrees F and prepare a regular-sized baking sheet by greasing it with non-stick cooking spray.
In a large mixing bowl, combine the eggs, unsweetened applesauce, monk fruit sweetener, and canned pumpkin puree. Use a hand beater to mix until well combined.
In a separate medium-sized bowl, whisk together the almond flour, baking soda, baking powder, Pink Himalayan sea salt, and the optional pumpkin pie spice.
Add the dry mixture to the wet mixture and continue beating with the hand beater until well combined.
Pour the batter evenly onto the greased baking sheet and spread it out.
Bake in the preheated oven for 25-30 minutes or until a toothpick inserted into the center comes out clean. Let the cake layer cool.
Frosting:
In a medium bowl, combine the softened Greek yogurt cream cheese, light butter, powdered Lakanto golden monk fruit sweetener, vanilla extract, almond extract, and liquid stevia (if using). Use clean hand beaters to mix until smooth.
If needed, add 1-2 tablespoons of unsweetened almond milk to achieve a slightly more spreadable consistency for the frosting.
Assembling:
Once the cake layer has cooled, frost it with the prepared frosting. You can use small spoonfuls of frosting spread all over the cake and then spread it with a frosting spreader or butter knife.
Add as much or as little frosting as you prefer.
Keep the pumpkin bars refrigerated until you're ready to serve.
This Weight Watchers-friendly version reduces the calorie and fat content while maintaining the delicious pumpkin flavor. Enjoy your guilt-free pumpkin bars!