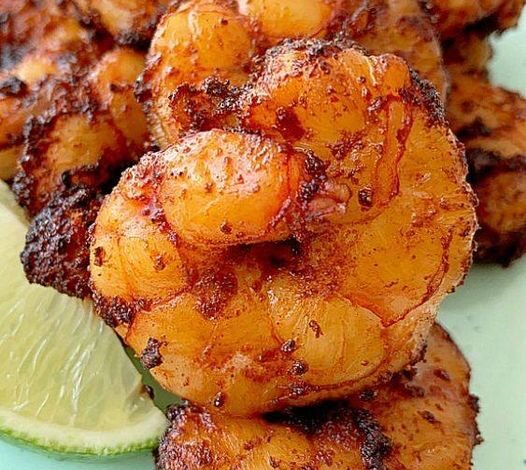 Ingredients:
For the Air Fryer Shrimp:
1 pound large shrimp, peeled and deveined
1 cup breadcrumbs (panko or regular)
1/2 cup flour
2 eggs, beaten
1 teaspoon paprika
1/2 teaspoon garlic powder
1/2 teaspoon onion powder
Salt and pepper, to taste
For the Slaw:
2 cups coleslaw mix (cabbage and carrots)
1/4 cup mayonnaise
1 tablespoon lime juice
1 teaspoon honey
Salt and pepper, to taste
For Assembling:
8 small flour or corn tortillas
Sliced avocado
Salsa or hot sauce
Fresh cilantro leaves
Lime wedges
Instructions:
Preheat your air fryer to 400°F (200°C).
In a shallow dish, mix together the breadcrumbs, paprika, garlic powder, onion powder, salt, and pepper.
Place the flour in another shallow dish and the beaten eggs in a third dish.
Coat each shrimp with flour, dip it in the beaten eggs, and then roll it in the breadcrumb mixture, ensuring an even coating. Place the coated shrimp on a plate or tray.
Place the coated shrimp in a single layer in the preheated air fryer basket. You may need to cook them in batches if your air fryer is small.
Lightly spray the shrimp with cooking spray to help them become crispy in the air fryer.
Air fry the shrimp for about 6-8 minutes, flipping them halfway through the cooking time, or until they are golden brown and crispy.
While the shrimp are cooking, prepare the slaw. In a bowl, combine the coleslaw mix, mayonnaise, lime juice, honey, salt, and pepper. Toss until well combined.
Warm the tortillas in the air fryer for a minute or two, or according to the manufacturer's instructions.
To assemble the tacos, place a generous spoonful of the slaw on each tortilla, add a few air-fried shrimp, and top with sliced avocado, salsa or hot sauce, cilantro leaves, and a squeeze of fresh lime juice.
Serve your air fryer shrimp tacos immediately and enjoy!