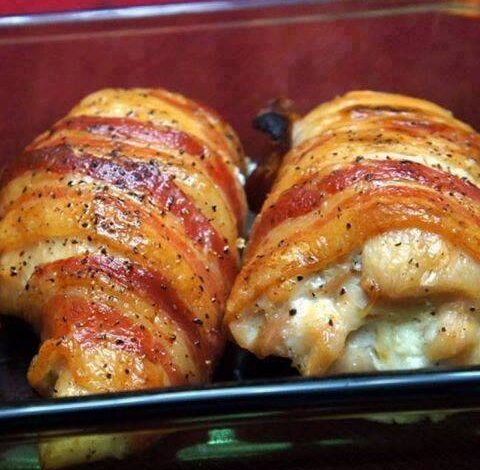 Ingredients:
4 boneless, skinless chicken breasts
4-8 strips of bacon (use 1 or 2 strips per chicken breast, depending on your preference)
4 ounces of cream cheese, softened
2 cloves of garlic, minced
1/4 cup of grated Parmesan cheese
1/4 cup of shredded mozzarella cheese
1/4 cup of chopped fresh parsley
Salt and black pepper to taste
Toothpicks
Instructions:
Preheat your oven to 375°F (190°C).
In a mixing bowl, combine the softened cream cheese, minced garlic, grated Parmesan cheese, shredded mozzarella cheese, and chopped parsley. Season the mixture with salt and black pepper to taste.
Lay the chicken breasts on a clean surface. Using a sharp knife, cut a pocket into each chicken breast by slicing horizontally through the thickest part of the breast. Be careful not to cut all the way through.
Stuff each chicken breast with the cream cheese mixture. You can use a spoon to help stuff the mixture evenly into each pocket.
Wrap each stuffed chicken breast with 1 or 2 strips of bacon, securing the bacon in place with toothpicks. This not only adds flavor but also helps keep the chicken moist during baking.
Place the bacon-wrapped chicken breasts on a baking sheet or in a baking dish.
Bake in the preheated oven for about 25-30 minutes or until the chicken is cooked through, the bacon is crispy, and the internal temperature of the chicken reaches 165°F (74°C).
If you want the bacon to be extra crispy, you can broil the chicken for a couple of minutes at the end of the cooking time.
Once done, remove the toothpicks from the chicken breasts before serving.
Serve your bacon-wrapped cream cheese stuffed chicken breast with your favorite side dishes, such as steamed vegetables, mashed potatoes, or a fresh salad.