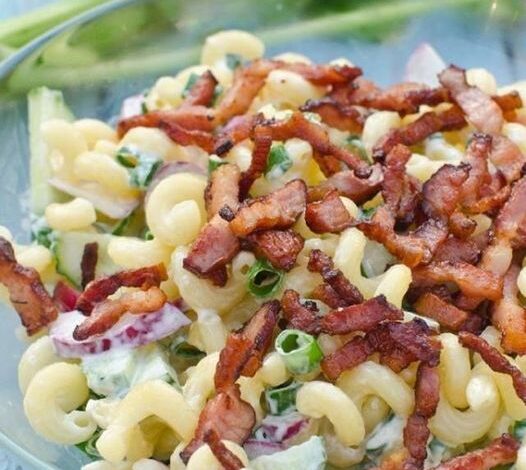 Ingredients:
For the Salad:
8 oz (about 2 cups) whole wheat pasta (use a pasta with low SmartPoints if available)
4 slices of center-cut bacon, cooked and crumbled (look for lean or turkey bacon for fewer SmartPoints)
1 cup cherry or grape tomatoes, halved
2 cups chopped Romaine lettuce
2 green onions, thinly sliced
1/4 cup reduced-fat mayonnaise
1/4 cup fat-free Greek yogurt
2 teaspoons Dijon mustard
2 teaspoons white wine vinegar
Salt and pepper to taste
Instructions:
Cook the pasta according to the package instructions until it's al dente. Drain, rinse with cold water, and let it cool completely.
In a large bowl, combine the cooled pasta, chopped Romaine lettuce, sliced green onions, and halved cherry or grape tomatoes.
In a separate bowl, whisk together the mayonnaise, Greek yogurt, Dijon mustard, and white wine vinegar. This will be your dressing.
Pour the dressing over the salad and toss everything together until the salad is well coated with the dressing.
Add the crumbled bacon to the salad and toss it in.
Season the salad with salt and pepper to taste.
You can serve this salad immediately or refrigerate it for a few hours to allow the flavors to meld.
Please remember to adjust the SmartPoints based on your portion size and the specific ingredients you use. Weight Watchers points can vary, so it's a good idea to use the WW app or website for the most accurate point calculations.
Enjoy your BLT Pasta Salad!