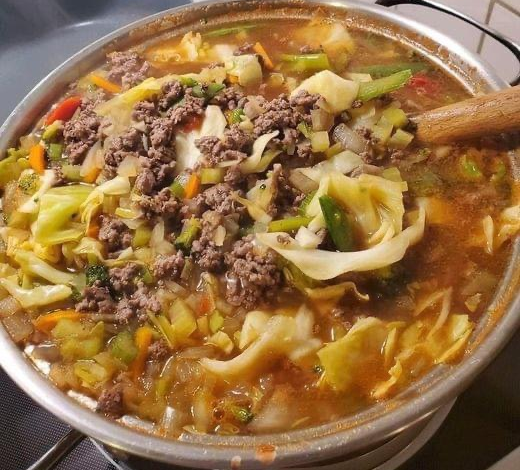 Ingredients:
1 small head of cabbage, chopped
1 onion, diced
2 bell peppers (any color), diced
2 carrots, sliced
2 celery stalks, chopped
3 cloves garlic, minced
6 cups vegetable broth (low-sodium if possible)
1 can (14.5 oz) diced tomatoes (with no added sugar)
1 tsp dried oregano
1 tsp dried basil
1/2 tsp paprika
Salt and pepper to taste
Optional: A dash of hot sauce or red pepper flakes for added spice
Instructions:
In a large pot or Dutch oven, heat a little olive oil over medium heat.
Add the diced onions and minced garlic. Sauté for a few minutes until the onions become translucent.
Add the bell peppers, carrots, and celery. Continue to sauté for another 5-7 minutes, or until the vegetables start to soften.
Pour in the vegetable broth and add the diced tomatoes (with their juice). Stir in the dried oregano, basil, paprika, and season with salt and pepper to taste.
Bring the soup to a boil, then reduce the heat to low and cover. Let it simmer for about 20-25 minutes or until the vegetables are tender.
Finally, add the chopped cabbage to the soup. Simmer for an additional 10-15 minutes, or until the cabbage is soft and wilted.
Taste the soup and adjust the seasonings as needed. If you like it spicy, you can add a dash of hot sauce or red pepper flakes.
Serve hot and enjoy!