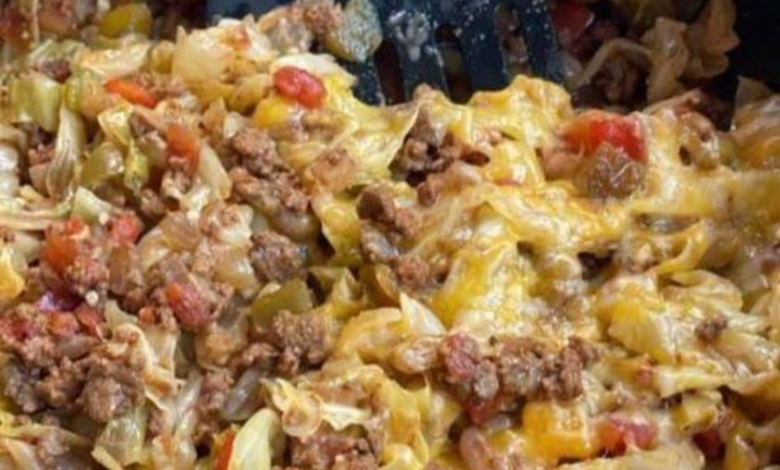 Ingredients:
1 lb ground beef (you can also use ground turkey or pork)
1 small onion, chopped
2 cloves garlic, minced
1 small head of cabbage, chopped
1 can (14 oz) diced tomatoes
1 can (8 oz) tomato sauce
1/2 cup uncooked white rice
1 cup beef or vegetable broth
1 teaspoon paprika
1/2 teaspoon dried thyme
1/2 teaspoon dried oregano
Salt and pepper to taste
Shredded cheese (optional, for garnish)
Chopped fresh parsley (optional, for garnish)
Instructions:
In a large skillet or pan, cook the ground beef over medium heat until it's no longer pink. If you're using a lean meat like ground turkey, you might need to add a little oil to prevent sticking.
Add the chopped onion and minced garlic to the skillet and cook for a few minutes until they become translucent and fragrant.
Stir in the chopped cabbage, diced tomatoes (with their juices), tomato sauce, and uncooked rice.
Pour in the beef or vegetable broth and add the paprika, thyme, and oregano. Season with salt and pepper to taste.
Mix everything well, then cover the skillet with a lid and reduce the heat to low. Let the mixture simmer for about 20-25 minutes, or until the rice is tender and the cabbage is soft.
Check the seasoning and adjust if necessary. You can also add more broth or water if the mixture becomes too thick or dry.
If desired, sprinkle shredded cheese on top, cover the skillet, and let it melt for a few minutes.
Garnish with chopped fresh parsley before serving.
Cabbage Roll Skillet is a complete meal on its own, but you can also serve it with a side salad or crusty bread if you like. Enjoy your delicious and simplified version of cabbage rolls!