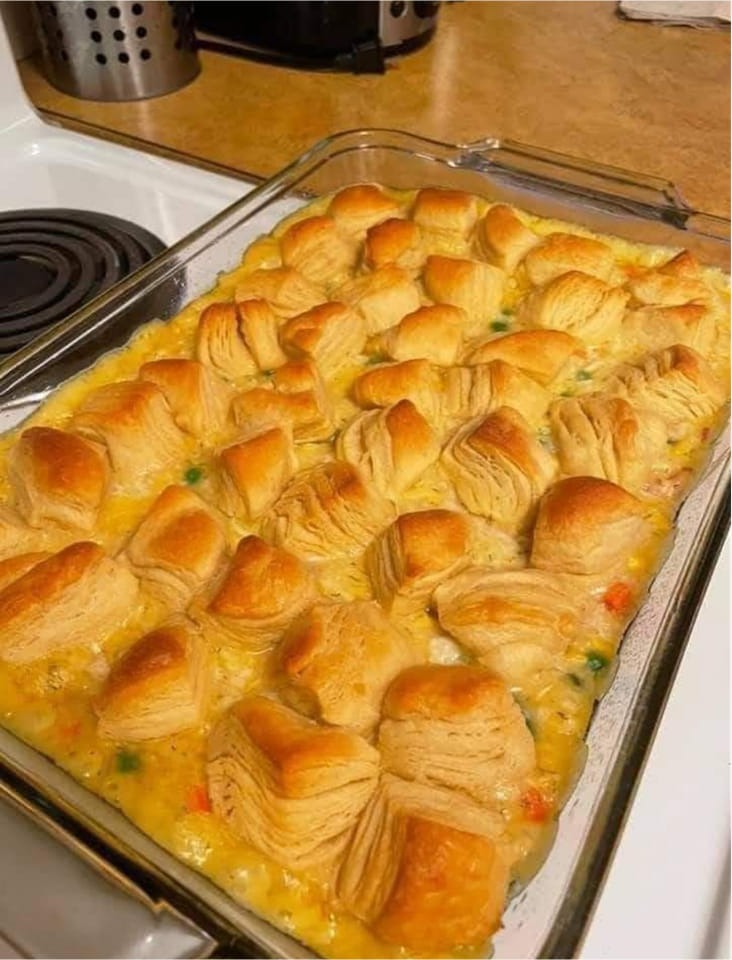 Ingredients:
For the filling:
2 cups cooked chicken, diced
1 cup frozen mixed vegetables (carrots, peas, corn)
1/2 cup diced onion
1/2 cup diced celery
1/2 cup diced potatoes
1/4 cup unsalted butter
1/4 cup all-purpose flour
2 cups chicken broth
1 cup milk
1 teaspoon dried thyme
Salt and pepper to taste
For the crust:
2 pre-made pie crusts (store-bought or homemade)
Instructions:
Preheat your oven to 425°F (220°C).
In a large skillet, melt the butter over medium heat. Add the diced onion, celery, and potatoes. Sauté until the vegetables are tender, about 5-7 minutes.
Sprinkle the flour over the cooked vegetables and stir well to coat. Cook for an additional 1-2 minutes to cook out the raw flour taste.
Gradually pour in the chicken broth and milk, stirring constantly to avoid lumps. Bring the mixture to a simmer and cook until it thickens, about 5 minutes.
Add the cooked chicken, frozen mixed vegetables, dried thyme, salt, and pepper to the skillet. Stir well to combine all the ingredients. Remove from heat.
Line a pie dish with one of the pre-made pie crusts. Pour the chicken pot pie filling into the pie dish.
Cover the filling with the second pre-made pie crust. Crimp the edges of the crusts together to seal.
Use a sharp knife to cut a few slits in the top crust to allow steam to escape during baking.
Optional: Brush the top crust with beaten egg or milk for a golden and shiny appearance.
Place the pot pie on a baking sheet (to catch any drips) and bake in the preheated oven for 30-35 minutes, or until the crust is golden brown and the filling is bubbly.
Remove the pot pie from the oven and let it cool for a few minutes before serving.
Enjoy your soul food-inspired Chicken Pot Pie! It pairs well with a side salad or some roasted vegetables.