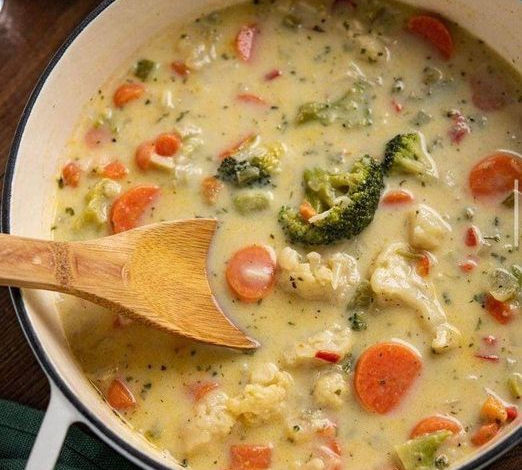 INGREDIENTS
1 small onion, finely chopped

2 cloves of garlic, minced

1 tablespoon of salted butter (not margarine)

½ small red bell pepper, diced

750g (26.5oz) bag of frozen mixed veg (cauliflower, broccoli and carrots)

3 cups (720ml) of chicken or vegetable stock – see note!!

2 cups (480ml) of 2% milk (semi skimmed) – do not use skimmed

2 tablespoons of cornstarch (cornflour) (or can use tapioca or arrowroot flour)

Salt and black pepper to season

2 tablespoons of fresh chopped parsley.
INSTRUCTIONS
Add the butter to a saucepan over a medium high heat.

Add the onion and fry until really golden and softened.

Add the garlic and red pepper and continue to fry for a minute.

Add in the stock, milk and frozen veg, whisk the cornstarch with a little water to make a slurry, pour this into the soup.

Bring to a boil and then reduce heat and simmer until the soup thickens and vegetables are tender (approx 5-8 minutes).

Stir in the fresh parsley.

Taste and season with salt and black pepper as needed.