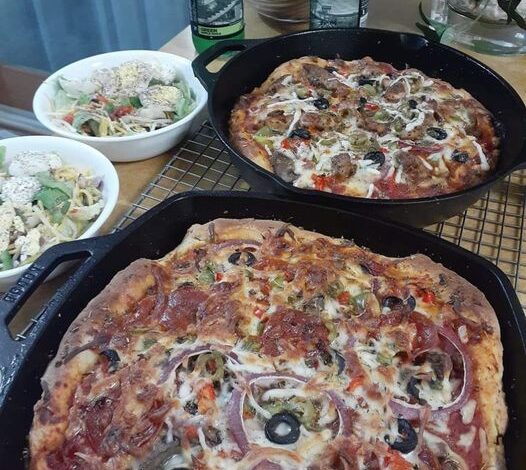 Ingredients
1 cup Rao's Homemade Marinara
1 pound pre-made pizza dough
2 cups shredded mozzarella cheese
1/2 cup grated Parmesan cheese
1/2 teaspoon garlic powder
1/2 teaspoon dried oregano
1/4 teaspoon red pepper flakes
1/4 teaspoon salt
1/4 teaspoon black pepper
Optional toppings: cooked sausage, sliced mushrooms, sliced bell peppers, sliced onions
Directions
Preheat your oven to 425°F.
Grease a 9-inch deep-dish pizza pan with cooking spray.
Roll out the pizza dough to fit the bottom and sides of the pan. Make sure the dough comes up the sides of the pan.
Sprinkle half of the shredded mozzarella cheese on the bottom of the dough.
Spread the Rao's Homemade Marinara over the cheese.
Sprinkle the garlic powder, oregano, red pepper flakes, salt, and black pepper over the marinara sauce.
Add your desired toppings (if using).
Sprinkle the remaining shredded mozzarella cheese and grated Parmesan cheese over the toppings.
Bake for 25-30 minutes, or until the crust is golden brown and the cheese is melted and bubbly.
Let the pizza cool for a few minutes before slicing and serving.
Enjoy your delicious deep-dish pizza made with Rao's Homemade Marinara!