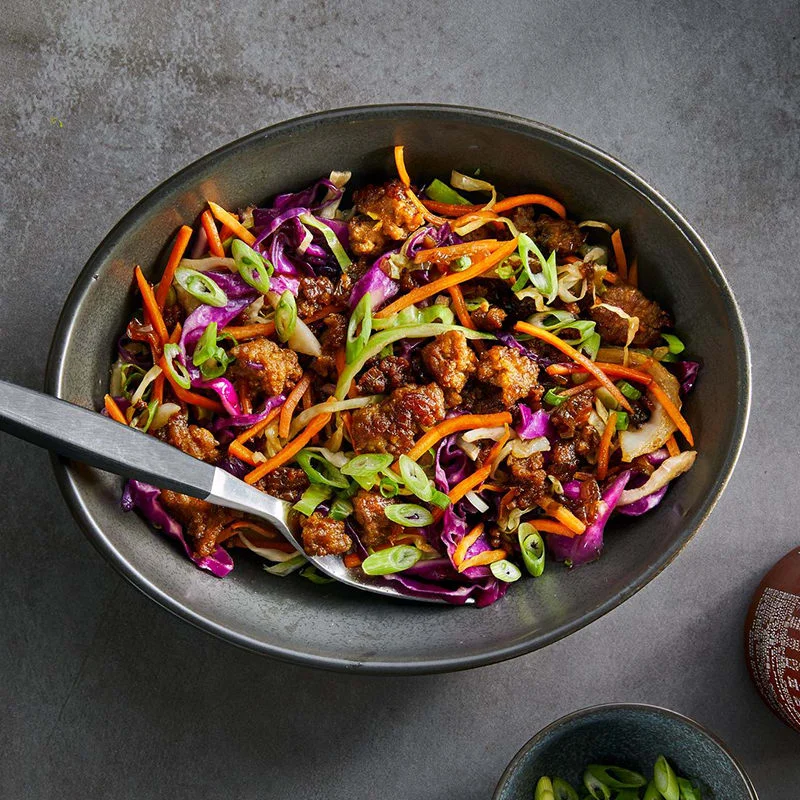 Chinese takeout gets a little lighter here but hangs on to its iconic flavors. You can add extra veggies like thinly sliced red bell peppers, mushrooms, or shredded carrots to the mix.
Ingredients
Uncooked 96% lean ground pork
1 pound(s)
Uncooked scallion(s)
6 large, chipped
Garlic clove
2 clove(s), minced
Toasted sesame oil
1 Tbsp
Packaged coleslaw mix (shredded cabbage and carrots)
6 cup(s)
Instructions
Coat medium nonstick skillet with nonstick spray and heat over medium-high. Add pork, scallions, garlic, and ginger and cook, breaking up meat with wooden spoon, until pork is cooked through and no longer pink, 7 to 8 minutes.
Stir in soy sauce, rice vinegar, jam, and oil.
Divide pork mixture among 4 bowls or storage containers. Top each bowl with 1½ cups coleslaw. Cover and refrigerate.
Before serving, microwave pork and vegetables until pork is heated through and coleslaw is lightly wilted, 2 to 3 minutes. Or in small skillet or saucepan, heat pork and vegetables over medium for 2 to 3 minutes. Toss to combine. Garnish with more scallions and hot sauce (if using).
If you are thinking of joining WW, check out our exclusive WW deals below.
Serving size: about 1 1/2 cups