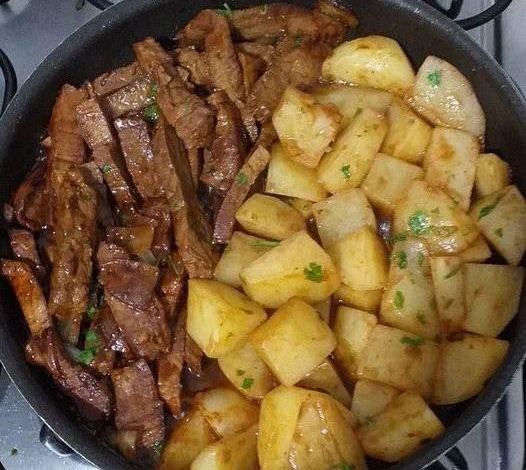 Ingredients:
For the Steak:
2 (8-ounce) New York strip steaks (or your preferred cut)
Salt and freshly ground black pepper, to taste
2 tablespoons olive oil
2 tablespoons butter
4 cloves garlic, minced
2 sprigs fresh rosemary (or thyme), optional
For the Potatoes:
1.5 pounds baby potatoes, halved
2 tablespoons olive oil
Salt and freshly ground black pepper, to taste
1 teaspoon paprika
1/2 teaspoon dried thyme
1/2 teaspoon dried rosemary
1/2 teaspoon garlic powder
1/4 teaspoon onion powder
For the Garlic Butter Sauce:
4 tablespoons butter
4 cloves garlic, minced
1 tablespoon fresh parsley, chopped
Juice of 1/2 lemon
Salt and pepper, to taste
Instructions:
Start by marinating the steaks. Season them generously with salt and pepper on both sides. You can also add a touch of olive oil if you prefer. Allow the steaks to sit at room temperature for about 30 minutes to come to room temperature.
While the steaks are resting, preheat your oven to 400°F (200°C).
In a large oven-proof skillet, heat 2 tablespoons of olive oil over medium-high heat. Add the halved baby potatoes to the skillet. Season them with salt, pepper, paprika, dried thyme, dried rosemary, garlic powder, and onion powder. Cook the potatoes, stirring occasionally, until they start to brown, about 5-7 minutes.
Move the potatoes to one side of the skillet, making space for the steaks. Add 2 tablespoons of butter to the skillet and let it melt. Place the seasoned steaks in the skillet and sear them for 2-3 minutes on each side until they develop a nice crust.
Add minced garlic and fresh rosemary (or thyme) to the skillet. Stir it around for about 1 minute until the garlic becomes fragrant.
Transfer the skillet to the preheated oven. Roast for about 10-15 minutes, or until the steaks reach your desired level of doneness. You can use a meat thermometer to check the internal temperature. For medium-rare, aim for about 130°F (54°C).
While the steaks are roasting, prepare the garlic butter sauce. In a small saucepan, melt 4 tablespoons of butter over low heat. Add minced garlic and cook for about 1-2 minutes until it's fragrant but not browned. Stir in chopped fresh parsley, lemon juice, salt, and pepper. Keep warm until the steaks are done.
Once the steaks are cooked to your liking, remove the skillet from the oven and let the steaks rest for a few minutes.
Serve the garlic butter steak and potatoes skillet with the prepared garlic butter sauce drizzled over the top. You can also garnish with additional fresh herbs if desired.
Enjoy your delicious homemade Garlic Butter Steak and Potatoes Skillet!