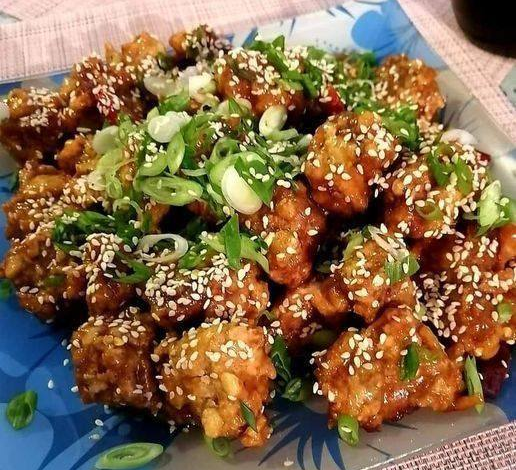 Ingredients:
For the Chicken:
1 lb boneless, skinless chicken thighs, cut into bite-sized pieces
1/2 cup almond flour
1/2 teaspoon salt
1/4 teaspoon black pepper
2 large eggs, beaten
2 tablespoons coconut oil or avocado oil for frying
For the Sauce:
1/3 cup fresh orange juice (about 2 small oranges)
2 tablespoons tamari or soy sauce (for gluten-free option)
2 tablespoons erythritol or your preferred keto-friendly sweetener
1 tablespoon apple cider vinegar
1 teaspoon grated ginger
1 teaspoon minced garlic
1/2 teaspoon xanthan gum (optional, for thickening)
For Garnish (optional):
Sesame seeds
Sliced green onions
Instructions:
In a shallow bowl, mix together almond flour, salt, and black pepper.
Dip each piece of chicken into the beaten eggs, then coat it with the almond flour mixture, pressing gently to adhere.
Heat the coconut oil or avocado oil in a large skillet over medium-high heat. Once hot, add the coated chicken pieces and cook until golden brown and cooked through, about 4-5 minutes per side. Remove the chicken from the skillet and set it aside.
In the same skillet, add the fresh orange juice, tamari or soy sauce, sweetener, apple cider vinegar, grated ginger, and minced garlic. Bring the mixture to a simmer and let it cook for about 2-3 minutes.
If you'd like a thicker sauce, you can sprinkle xanthan gum over the mixture and whisk it in. Allow the sauce to thicken for an additional 2 minutes.
Add the cooked chicken back into the skillet with the sauce, tossing to coat the chicken pieces evenly.
Let the chicken and sauce cook together for another 2-3 minutes to meld the flavors.
Serve the keto orange chicken over cauliflower rice or your preferred low-carb side dish.
Optional: Garnish with sesame seeds and sliced green onions for added flavor and presentation.
Enjoy your keto-friendly Orange Chicken! Remember to adjust the sweetness and seasoning to your taste preferences.